This offseason's provided the first taste of Jon Gruden taking some of Reggie McKenzie's power within the Raiders' organization. Mark Davis clarified the setup, confirming McKenzie won't have as much responsibility as he once did.
In authorizing a 10-year contract for Gruden, Davis has confirmed the now-two-time Raiders head coach's voice is the most important in the building.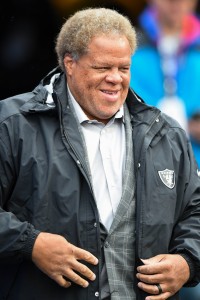 "They have roles to play. At this point in time, the role Reggie plays now is a little different than the role he played with Jack (Del Rio), a little different than his role working with Dennis (Allen)," Davis said, via Scott Bair of NBC Sports Bay Area.
"It evolves. (McKenzie) has built the team to where we are now, and we're in pretty good shape with the cap and everything else. Now he has a head coach who's going to be running this thing for the next 10 years. His vision is going to be most important building what type of team we've got."
Davis added that McKenzie maintains control of Oakland's salary cap. But Gruden appears to have a much bigger say about free agency targets than his McKenzie-era predecessors did. The Raiders have added several veterans who are north of 30 — like Jordy Nelson, Leon Hall, Dwayne Harris, Breno Giacomini and Shareece Wright — and others non-fifth-year UFAs (Doug Martin, Tahir Whitehead, Emmanuel Lamur, Marcus Gilchrist).
"Jon's the head coach and he's going to be here a while, so it's important that he gets the players he wants and builds a team he wants to build," Davis said. "Reggie is there with his staff to find the players, and also to keep the (salary) cap and everything else in order."
McKenzie constructed a roster that ended the Raiders' lengthy playoff drought, with a 12-4 2016 showing, but that group underwhelmed last season and regressed to a six-win outfit.
Davis said he won't meddle often in the personnel side and confirmed his goal of bringing Gruden back to Oakland took more than five years to come to fruition.
"I'm done with the football side," Davis said. "I got Reggie in place early. That was huge. But it was a six-year process to get Jon to be the head coach. I wanted him way back then, but it just wasn't meant to be. I continually kept after Jon to see if he was interested. If he decided to come back, I hoped it would be with the Raiders. This year, he finally came on board.
"That allows me to see a long-term process working out on the football side. Jon will be our coach for the next 10 years, or until he gets tired of me. With him and Reggie on the football side of the building, and (director of football administration) Tom Delaney of course, they really do a great job. From the football side, I play devil's advocate on certain things, but those guys make the decisions."