T.J. Logan just can't catch a break. Per Rick Stroud of the Tampa Bay Times, Logan sustained a patellar tendon injury in yesterday's practice and is likely to miss the season (Twitter link).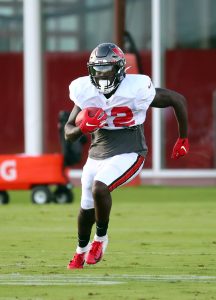 A fifth-round pick of the Cardinals in the 2017 draft, Logan missed his entire rookie campaign due to an injured wrist. He got some work as a kick returner in 2018, but Arizona waived him before the start of the 2019 campaign.
The Bucs claimed him off waivers, and he became Tampa's primary return specialist, handling 13 punts and 13 kickoffs. Unfortunately, a thumb injury suffered last December cut his season a bit short, and now he will have to wait until 2021 to get back on the field.
A running back by trade, Logan had a good chance to reprise his role as the Bucs' kick returner in 2020, and he may have had the opportunity to see some time as a change-of-pace option in the backfield. He has nine receptions and five rushing attempts in his career.
Making matters worse is the fact that the injury came from friendly fire. Per Patrik Walker of CBS Sports, linebacker Quinton Bell tackled Logan from behind during a non-tackling period of practice, drawing the ire of his teammates and head coach Bruce Arians.
As James Palmer of the NFL Network tweets, Arians has indicated that rookie RB Ke'Shawn Vaughn could get a shot at return duties. In addition to Vaughn, a third-round choice, and seventh-rounder Raymond Calais, the Buccaneers signed veteran LeSean McCoy to buttress their rushing attack, fronted by the inconsistent Ronald Jones.
Photo courtesy of USA Today Sports Images.