Marvin Lewis continues to add new faces to his staff. The team has agreed to hire Alex Van Pelt to be their quarterbacks coach for next season, according to Adam Schefter of ESPN.com (Twitter link). Van Pelt worked most recently in the same position for the Packers, but was not retained after his contract expired this past season.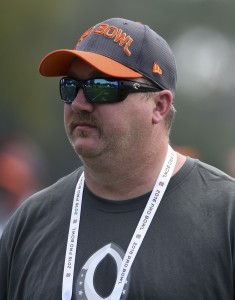 Schefter adds in the same tweet that the the Bengals have also brought on Daronte Jones to coach the secondary and Matt Raich as a defensive assistant.
We have also learned that the Bengals have decided to keep Dan Pitcher as an assistant QB coach, per Jim Owczarski of the Enquirer (Twitter link). He worked with the team's wideouts last year. Owczarski also notes that Robert Couch is being retainted in his current role as the Bengals assistant offensive line coach.
Van Pelt is clearly the the most notable hire of this group as he's worked in he NFL in a variety of capacities since 2006. He held his previous job in Green Bay for four seasons before the team opted to go in a different direction after they missed the playoffs for the first time since 2008.
As the quarterbacks coach for the Packers, Van Pelt had the pleasure of working with Aaron Rodgers for many years, but will get a new challenge trying to help Bengals signal caller Andy Dalton elevate his play with the hopes of securing his first playoff victory in 2018.
Since surprisingly retaining Lewis as head coach after the regular season, the Bengals have shaken up their coaching staff by adding Teryl Austin as its new defensive coordinator and former Cowboys offensive line coach Frank Pollack to replace longtime Bengals staffer Paul Alexander.
Photo courtesy of USA Today Sports Images.