Former Browns wide receiver Antonio Callaway lost the appeal of his ten-game suspension, according to NFL.com's Ian Rapoport (on Twitter). It's a bad blow for Callaway, who is currently on waivers and was hoping to hook on with another team before the end of the season.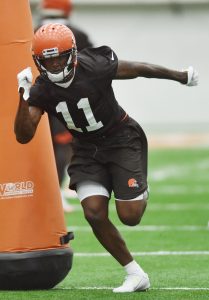 Browns head coach Freddie Kitchens clashed with Callaway this year and the team ran out of patience with him on Thursday. The Browns cut the talented wideout, partially due to the suspension, but also for other reasons.
Callaway started the year with a four-game suspension for a substance abuse policy violation. Then, recently, the Browns learned that Callaway was facing a separate ten-game ban for a second violation. Despite his flashes of impressive play last year, the Browns were fed up.
Callaway is now up for grabs for the league's other 31 teams. Any team claiming him would assume the remainder of his inexpensive rookie contract, which extends through 2021. Obviously, Callaway won't be able to help any team until September 2020, but it's possible that a non-contending team could roll the dice on him.
Meanwhile, Callaway claims his positive test came from a tainted CBD product (Twitter link). Unfortunately for him, the league's drug policy is quite strict and insists that players know what they're putting in their bodies.
Photo courtesy of USA Today Sports Images.