Years removed from the end of their playing days, a pair of former Chargers signed one-day contracts today to officially end their careers. Cornerback Antonio Cromartie and defensive lineman Corey Liuget have retired, as confirmed by a team announcement.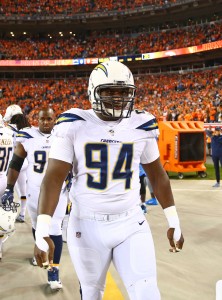 Cromartie spent the first four seasons of his career with the franchise, after he was the Chargers' top pick in 2006. After a quiet rookie campaign, he took off in his second year, leading the league with 10 interceptions. That led to his recognition as a First-Team All-Pro member, and earned him the first of four Pro Bowl nods. The other three came in consecutive campaigns with the Jets, who ultimately released him in 2016; a brief stint with the Colts marked the end of his NFL playing days.
"Honestly for me, it's always [been] home," the 38-year-old said of his first employer. "No matter how we split up, no matter what went on, [the] Chargers have always been home. One, they gave me the opportunity to go after a dream that I had since a little kid. Chargers nation, Bolt nation and everything else will always be home to me. They hold dear to my heart."
Liuget was likewise a Chargers first-rounder in 2011. His first four years saw him put up quality numbers – especially in terms of pass rush – which earned him a five-year, $58.5MM extension in the 2015 offseason. The time following that deal marked a turning point in his career, including a major knee injury and a 2018 PED suspension. After bouncing around to the Bills and Raiders, Liuget, 32, played his final games with the Texans in 2020.
"Being there for eight years, some of the relationships I made and the people there, they impacted my life," he said. "That was one of the greatest things that could have ever happened to me, playing for that organization. They changed my life and my family's life. I'm very thankful for them. Me retiring as a Charger is a true honor."
Overall, Cromartie amassed a career earnings total of roughly $46.6MM; Liuget's figure checks in at just under $44MM. Their careers never overlapped with the Chargers, but they are now tied together through today's joint retirement announcement.