The Broncos promoted cornerback Brendan Langley from the practice squad on Wednesday. The 2017 third-round pick did not make the team's initial cut this year, but he may finally be on the verge of making his 2018 debut.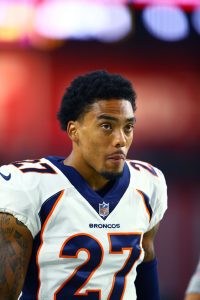 Langley, a converted wide receiver out of Georgia, did not make the 53-man roster in September even after the Broncos parted ways with Aqib Talib. The arrival of Adam Jones had something to do with that, but a spot opened up for the youngster when Pacman was cut loose this week.
Langley didn't have the best camp or preseason in Denver. In four preseason games, Langley allowed five catches off of seven targets and his covered man averaged 15 yards per reception in that admittedly small sample. On the plus side, he did show some skills on special teams, and he has apparently impressed the Broncos in practice.
The 4-6 Broncos are fighting to keep their slim playoff hopes alive, but they're also evaluating players for next year's roster. This could be Langley's chance to make a strong impression on team brass and punch his ticket for next year's squad.
Photo courtesy of USA Today Sports Images.