The Dolphins signed Brice Butler to fill their open roster spot, according to a team announcement. At minimum, the wide receiver should help to replenish a group that has been dinged by injuries.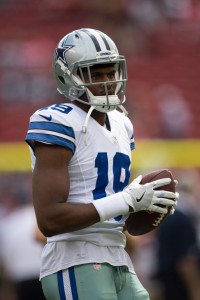 [RELATED: Dolphins Promote OL Isaac Asiata]
With DeVante Parker and Jakeem Grant sidelined, Butler may be one of four healthy receivers heading into Nov. 25th's game against the Colts. On the plus side, the Dolphins can use their bye week to heal up.
Butler rejoined the Cowboys this year after his signing with the Cardinals did not work out. He talked a big game in free agency, but he's appeared in just one game through ten weeks of the season.
To his credit, the well-traveled pass-catcher averaged 21.1 yards per catch last season with Dallas. That season also marked a new career high in yards (317) and matched his previous watermark for touchdowns (3).
Photo courtesy of USA Today Sports Images.