The Cuyahoga County Prosecutor's Office in Ohio announced Tuesday that it will not file charges against Browns wide receiver Corey Coleman for a Dec. 31 assault. A woman accused Coleman of beating up a man who reportedly suffered a concussion, a ruptured eardrum and other minor injuries during an altercation in the wideout's apartment complex. Coleman maintained his innocence throughout the process, though his brother and another man were charged. Both pleaded not guilty.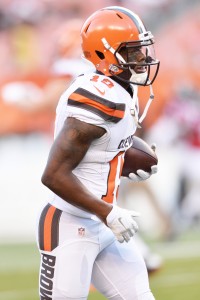 The prosecutor's office released a statement Tuesday explaining that it's no longer investigating Coleman, part of which reads (via Tom Pelissero of NFL.com):
"The Cleveland Police Department's investigation resulted in charges against Jonathan Coleman, 25, and Jared Floyd, 24, both of Dallas. A Grand Jury returned returned an indictment charging each defendant with one count of Felonious Assault, a second degree felony. Both were released on a $10,000 personal bond. Detectives continued their investigation into the possible participation of others, including the brother of Jonathan Coleman, Corey Coleman. Detectives recently received the labratory results from evidence submitted for DNA analysis. The testing results, conducted by the Cuyahoga County Medical Examiner's Office, indicate that there is no evidence implicating Corey Coleman."
In response, Coleman's attorney, Kevin Spellacy, told Adam Ferrise of cleveland.com: "I'm impressed with the county prosecutor and Cleveland police department's diligence in this case. Obviously Corey's denials are consistent with the evidence and we're happy they came to the same conclusion." 
Coleman, 23, is entering his second NFL season. The Browns used the 15th pick in the draft on him last year, and he went on to total 33 catches, 413 yards and three touchdowns in 10 games as a rookie.
Photo courtesy of USA Today Sports Images.