Browns wideout Corey Coleman was not charged in relation to a December assault that occurred at his apartment building, but Coleman's brother and another man were indicated, as Nate Ulrich of the Akron Beacon Journal. However, the incident remains under investigation, so it's unclear if Coleman could be charged at some point in the future.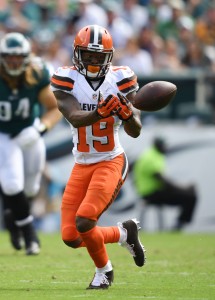 "Corey has cooperated with the authorities," Coleman's attorney Kevin Spellacy tells Ulrich. "He continues to cooperate with the authorities. And he's maintained he was not involved in a physical altercation at that incident whatsoever. Whether that be encouraging somebody, whether that be participating in fighting, he wasn't involved. Period."
As Ulrich details, the December 31 police report regarding the episode states Adam Sapp was assaulted as he walked towards an elevator in Coleman's apartment complex. Sapp doesn't remember the altercation, but a woman who was with him has accused Coleman of being involved in the fight and claims Coleman "beat up Sapp." Sapp reportedly suffered a concussion, a ruptured eardrum, and other minor injuries, per Ulrich.
Even if Coleman isn't eventually charged with a crime, he could still be subject to NFL discipline. As previous investigations have shown, the league often doesn't take its cue from the legal process, preferring to mete out punishment of its own volition.
Photo courtesy of USA Today Sports Images.