The Browns are releasing wide receiver Kasen Williams in order to make room for Corey Coleman on the active roster (Twitter link via Tony Grossi of ESPN.com). Williams will be subject to waivers, meaning that the league's 31 other teams will have a chance to add him in the next 24 hours.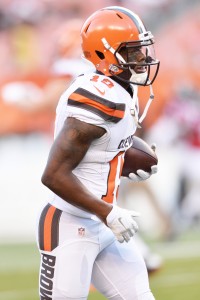 Williams, 25 in December, appeared in just three games for the Seahawks between 2015 and 2016. However, he broke out during the preseason with nine catches, 208 yards and one touchdown. That performance caught the attention of executives around the league and the Browns pounced on the chance to claim him off waivers when he missed the Week 1 cut in September. Now that he's back on the wire, it wouldn't be surprising to see multiple teams put in claims on him.
Waiver wire priority, of course, goes by the inverse order of the NFL standings. The Browns are the league's worst team at 0-9, so the 1-9 49ers will have the first chance to add him to the roster. The 6-3 Seahawks may also have some interest in a reunion, but most teams are ahead of them in the queue.
In his time with Cleveland, Williams appeared in seven games and pulled down nine grabs for 84 yards.
Photo courtesy of USA Today Sports Images.