The Giants will bring in a big name through an unusual route. They signed Jabaal Sheard off the Jaguars' practice squad.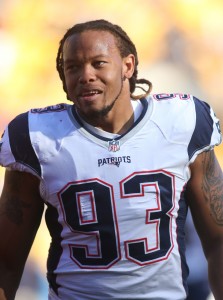 Sheard has 135 games' and 103 starts' worth of experience and is a 10th-year veteran. The edge defender caught on with the Jaguars last week, but with the Jags opting not to keep him on their active roster, the Giants completed a poaching operation.
While Jacksonville added Sheard to its active roster and used him in 15 snaps against Detroit, the team promoted Sheard using a 2020-implemented transactional tool that allows for players to revert back to teams' practice squads after games. Sheard is set to head to New York ahead of the Giants' Thursday game, though COVID-19 protocols will prevent him from playing against the Eagles.
Sheard, 31, spent the past three seasons as a Colts starter. He racked up 15.5 sacks during those Indianapolis seasons. He has previously played for the Browns and Patriots, collecting a Super Bowl ring with the latter franchise. A plus run defender in the recent past, Sheard has 51.5 career sacks.
The Giants have run into injury trouble at outside linebacker. They have young rushers Oshane Ximines and Lorenzo Carter on IR. Sheard will join Markus Golden and Kyler Fackrell in a now-veteran-heavy edge-rushing corps. Sheard will take the place of linebacker Tae Crowder, whom the Giants placed on IR. The seventh-round rookie's scoop-and-score sequence helped the Giants win their first game of the season Sunday, but a hamstring injury will shelve this year's Mr. Irrelevant for at least three games.
Sheard's move off Jacksonville's practice squad comes at an interesting time. Because of practice squad offensive lineman K.C. McDermott's positive coronavirus test, the Jaguars placed 11 more P-squad players on their reserve/COVID-19 list. Sheard is now gone as well. With new NFL protocols forcing even asymptomatic players to be on the COVID list for at least five days, the Jaguars have a decimated practice squad at present.
Photo courtesy of USA Today Sports Images.