Randall Cobb, who signed with the Cowboys as a free agent in March after a long run with the Packers, appears to be feeling a bit resentful towards his old team. Cobb recently said during an interview with ESPN Wisconsin (h/t Jason Wilde of the Wisconsin State Journal), "It's like the ex-girlfriend that broke up with you. When you see her five years later, you hope you're in a better situation than you were before — married, with kids, and you're able to say, 'Yeah, I did better without you.'"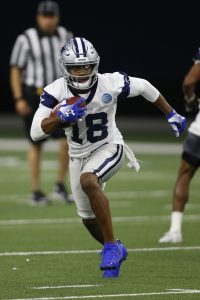 Despite a Green Bay tenure that saw him catch 517 passes for 6,120 yards and 46 touchdowns in 116 career games (including playoffs), and despite being a key figure in a number of memorable moments during that time, Cobb says the fact that the club never advanced to the Super Bowl while he was on the roster was a major disappointment, especially given how talented some of those rosters were. And he apparently wanted to come back to the Packers for another shot at helping to bring a championship to Title Town, but the interest was not mutual.
Cobb said the Packers never extended him an offer in free agency, and he even waited to see if Green Bay would change its mind after he started receiving offers from other teams, but that did not happen. So he ultimately accepted a one-year, $5MM pact to become the primary slot receiver for the Cowboys, who have lofty ambitions of their own in 2019.
The fact that Green Bay did not attempt to bring Cobb back is not terribly surprising, as he has dealt with a number of injuries since signing a four-year, $40MM contract with the club in March 2015, and he is clearly not the same player he was at the height of his career. He can still be serviceable, and the fact that the Packers are going into the season with Davante Adams and a host of mostly unproven talent at wide receiver may be irritating to him, but from an outsider's perspective, it seems like the Packers may have made the right call.
Green Bay travels to Dallas on October 6, a date that Cobb surely has circled on his calendar.
Photo courtesy of USA Today Sports Images.