The Chiefs picked up another win over the Broncos Sunday, but they also suffered a significant loss. On Monday, they were forced to place defensive end Alex Okafor on injured reserve with a torn pectoral muscle.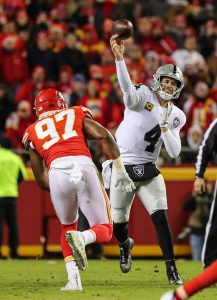 Okafor signed a three-year, $18MM deal with Kansas City this offseason, and has been playing fairly well as of late. In ten games and nine starts, he's racked up five sacks. Before that, Okafor spent the previous two years in New Orleans, where he was a full-time starter and key part of the defensive front.
The Chiefs' defense has started to play a lot better in recent weeks and is hitting a stride, so the timing on this certainly isn't ideal as they gear up for their playoff run. On a positive note – they've claimed Terrell Suggs, who can help to replace Okafor's presence and pass-rush ability.
Kansas City completely reinvented their pass-rush this offseason, getting rid of Justin Houston and Dee Ford and bringing in Okafor and Frank Clark. A Texas product, Okafor was originally drafted by the Cardinals in the fourth round back in 2013.
Photo courtesy of USA Today Sports Images.