We heard earlier this morning that the Dolphins and Lions are expecting to execute a trade that will allow Miami to jump up to the No. 3 overall selection while shipping the No. 5 pick to Detroit. The 'Fins had hoped to keep their No. 5 pick and trade from their other draft assets, but Lions GM Bob Quinn isn't biting on that.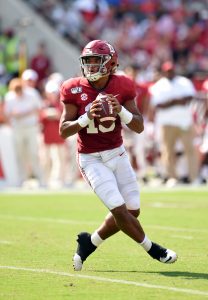 So if the trade is consummated, it's unclear what other draft picks will be heading to Motown. Though recent buzz has suggested that the Dolphins will take Alabama QB Tua Tagovailoa with their No.5 selection if they don't engineer a trade-up, the team will likely grab a left tackle if it lands the No. 3 pick. After all, the Giants, who hold the No. 4 overall selection, are also in the LT market, and a move to No. 3 would allow the Dolphins to select the player of their choice at that position.
But that would leave the club with a notable vacancy at QB. Per Barry Jackson of the Miami Herald, there are still execs and scouts within the Dolphins' front office that like Oregon passer Justin Herbert, so if Miami stays put at No. 5, Herbert can't be ruled out. And if he is still on the board when the Dolphins are on the clock with the No. 18 overall pick — and if they haven't picked a different QB by then — Herbert obviously becomes even more of a possibility.
In addition to QB and LT, the Dolphins have plenty of other needs to fill. And while WR is not necessarily the most pressing of those needs, a young receiving talent can't be ruled out in the bottom of the first round. Baylor wideout Denzel Mims could still be available when the team makes its No. 26 overall selection — assuming, of course, it hasn't been traded — and a Baylor football official tells Jackson that the Dolphins "really like" the raw but talented prospect.
Per Jackson, Miami has also shown interest in UVA wide receiver Hasise Dubois, Auburn safety Daniel Thomas, and Florida edge defender Jonathan Greenard.
Photo courtesy of USA Today Sports Images.