In signing Terrelle Pryor and Andre Roberts, the Jets added multiple free agent pieces at wide receiver this offseason. But they navigated through the negotiation process with Allen Hurns as well.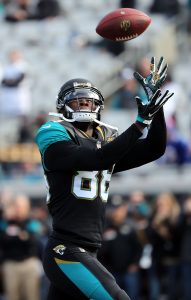 One of several teams to be interested in Hurns after his Jaguars release, the Jets saw weather intervene and delay the veteran wideout's March visit. But the Jets made Hurns an offer and indeed followed through with the rescheduled meeting. It just couldn't steer Hurns away from Dallas and a two-year, $12MM deal.
"(The Jets) already had an offer for me, and I didn't have an offer when I came (to Dallas)," Hurns said, via Kate Hairopoulos of the Dallas Morning News. "Once I came … I was in love. So I told my agent if it was less to come here, that I'd be willing to take it."
Booked the same day the Jags cut him, the Jets visit was first on Hurns' itinerary. By the time Hurns did get around to making his trip to the Big Apple, the Jets had already agreed to terms with Pryor. It's unclear what Gang Green's offer was, but the Jets possessed plenty of cap space. And at that time, Robby Anderson's legal outlook was cloudier than it is now.
Hurns posted a 1,000-yard season in 2015 but delivered significantly lesser production over the past two seasons, leading to the Jacksonville release. The Cowboys plan to deploy Hurns in the slot and on the outside, per Hairopoulos, and he'll be a key component of a passing game that lost Dez Bryant and Jason Witten this offseason.
Photo courtesy of USA Today Sports Images.