Longtime Steelers safety Troy Polamalu has announced his retirement from the NFL, telling Jim Wexell of Scout.com that he's hanging up his cleats. One of the best defenders of his generation, Polamalu was not expected to return to Pittsburgh in 2015, and he explained that the idea of playing for another franchise did not appeal to him.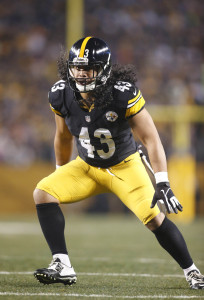 "I did not seriously consider playing elsewhere," said Polamalu. "It was just whether or not I wanted to play. I had talked to a lot of people about what I should do with my situation, and what they kept saying back to me, and which was not a sufficient reason, was 'Troy, you played 12 years in the NFL, you won Super Bowls, won individual awards. There's noting left to prove. You have a legacy.' And I just kept saying, 'First of all, I don't care about a legacy. Second of all, I play the game because I enjoy it.' That's the reason to keep playing.
But when I started this process and started to debate whether I should come back or should I play, that was kind of the sign for me to say, 'Whoa, if you're just even debating it maybe you shouldn't play anymore,' because what I do know about this game is it takes a lot, a lot, of commitment just to be an average player."
Polamalu, who will turn 34 in 10 days, had been a fixture on the Steelers' defense since entering the league in 2003, appearing in 158 total games for the franchise. However, he wasn't the same game-changing player in 2014 that he had been earlier in his career. While Pro Football Focus (subscription required) still gave the veteran a positive grade, it was only by a hair — his +0.1 mark placed him 48th out of 87 qualified safeties. It was also the only season of Polamalu's career besides 2007 in which he failed to record at least one interception or sack.
But it was off-the-field concerns that ultimately lead Polamalu to contemplate retirement. "It's all about family," he said. "I live here in Pittsburgh now, and since the end of the season I've had a chance to enjoy my family on a level I never had before. It was awesome." Seemingly a lock for a Hall of Fame berth, Polamalu won two Super Bowl titles with the Steelers (2006, 2009), and was named the NFL's Defensive Player of the Year in 2010. The 12-year veteran posted 32 interceptions during the course of his career.
As noted above, the USC alum was not expected back with the Steelers for the upcoming season, and the club reportedly had hoped that Polamalu would retire, sparing the organization from having to release an icon. Due to Polamalu's retirement, Pittsburgh will incur $4.5MM in dead money, but they'll save $3.75MM in cap space. If the transaction is processed after the May 12 deadline, the Steelers will save $6MM in cap space, and take hits of $2.25MM in 2016 and 2017.