The Chargers are adding a depth piece to their receiving corp. Los Angeles is signing receiver/returner Darius Jennings, his agent announced on Twitter.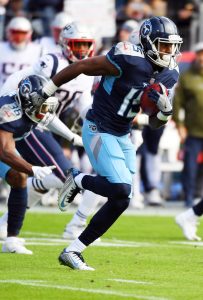 Jennings entered the league as an undrafted free agent with the Browns back in 2015. He caught 14 passes for 117 yards in only four games as a rookie after getting promoted from the practice squad late in the year. He bounced around on various practice squads the next couple of years, resurfacing with the Titans in 2018. He operated as Tennessee's kick returner that season, taking a kick back 94-yards for a touchdown and leading the league with a 31.7 yards per return average.
He was cut by the Titans midway through last season, but was re-signed in time for the playoffs and operated as their kick returner in two postseason games. The Chargers have Keenan Allen and Mike Williams at receiver but not a whole lot after them, so it's certainly conceivable that Jennings will crack the roster.
Photo courtesy of USA Today Sports Images.