Matt Simms' most recent NFL stay occurred in 2017 Falcons training camp. He will resurface in Atlanta two years later, creating a three-Matt Falcons quarterback depth chart.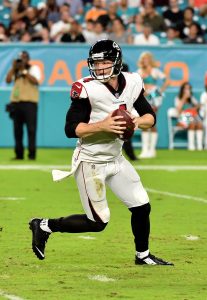 The Falcons signed Simms on Saturday. This comes after third-string quarterback Kurt Benkert suffered a toe injury — one NFL.com's Ian Rapoport described as "major" (on Twitter) — in Thursday's Hall of Fame Game.
Benkert, a 2018 UDFA, was vying for the backup job to Matt Ryan with veteran Matt Schaub. The latter made a late re-entrance Thursday after Benkert's toe malady forced him to leave the Canton game. It appears Benkert will be out a while.
Simms has not thrown a pass in a regular-season game since the 2014 season, which he spent with the Jets. He will turn 31 in September. His most recent NFL connection came in a September 2018 workout with the 49ers. The son of Phil Simms, Matt Simms spent the summers of 2016 and '17 with the Falcons and was on the 2016 NFC champions' practice squad. He worked in both Kyle Shanahan and Steve Sarkisian's offenses and will now attempt to stick around in Dirk Koetter's.
Photo courtesy of USA Today Sports Images.