That was fast. On Tuesday, the Bengals cut outside linebacker Sharif Finch, just hours after claiming him off waivers.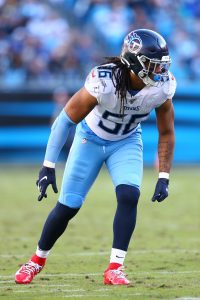 The Bengals claimed Finch off waivers following his release from the Titans. Unfortunately, a failed physical 86'd his Cincinnati stint before it could even begin.
The reason for his failed physical is not known, but it could be tied to the shoulder injury that held him back over the offseason. If it's not a serious red flag, the Giants and Lions could consider claiming him – both clubs tried to grab him earlier in the week, but they were trumped by the Bengals and their league-worst record.
Finch, 24, appeared in 23 games (three starts) for the Titans between 2018 and 2019. He notched 3.5 sacks in that span – including two sacks this year – and 40 total tackles.
Photo courtesy of USA Today Sports Images.