May 11: In an effort to resolve his legal situation as expeditiously as possible, Layne recently pled guilty to three misdemeanor charges — possession of criminal tools, speeding, and driving without an operator's license — as Josh Alper of Pro Football Talk details. He received a six-month suspended sentence, but he will not serve any of that sentence if he pays a $500 fine, forfeits a handgun, and performs 32 hours of community service.
Theoretically, Layne could still be suspended by the league, but getting rid of the felony charge that he was facing can't hurt. With the offseason departures of Steven Nelson and Mike Hilton, Layne stands to get an uptick in playing time in 2021.
Apr. 24: Steelers cornerback Justin Layne has found himself in hot water. The 23-year-old was arrested early Friday morning "on suspicion of felony transportation of a firearm inside of a vehicle," per ESPN's Ben Baby.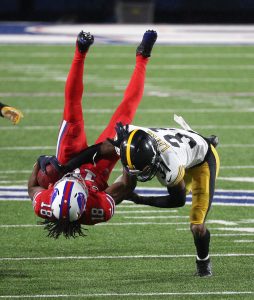 Layne was also charged with a pair of misdemeanors: "driving with a suspended license and exceeding speed limits." According to police, the player was pulled over after he was observed going 89 miles per hour in a 60 mph zone. Police searched the car after smelling marijuana, and they proceeded to find a loaded pistol (via NFL.com). The player didn't have the proper license for a conceal-carry permit. Layne later acknowledged the gun was his.
Police also learned that Layne "had an outstanding warrant for failure to appear on a traffic violation in another jurisdiction." Following his arrest, he was granted release on a personal bond, with his next court appearance coming in early May.
"We are aware of the incident but still gathering information," the Steelers said in a statement. "We will have no further comment at this time."
Following a standout career at Michigan State, Layne was selected by the Steelers in the third round of the 2019 draft. After barely playing during his rookie season (despite officially appearing in 10 games), he saw more time on the field in 2020. He finished this year having appeared in all 16 games, collecting 22 tackles.
Photo courtesy of USA Today Sports Images.