The trade market's heating up as teams configure their 53-man rosters, and one team isn't making it a secret it's seeking upgrades.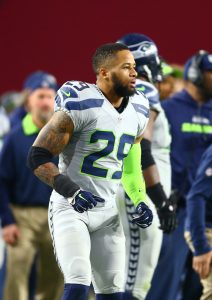 Cowboys executive vice president Stephen Jones said Wednesday the team is exploring additions to bolster their safety and offensive line spots. Specifically, Jones said the Cowboys want to fortify their interior offensive front, which suffered a critical setback when Travis Frederick was diagnosed with Guillain-Barre disease. Joe Looney resides as the Dallas starting center now, and the Cowboys either want depth behind him or competition.
"We feel good about Joe," Jones said, via Kate Hairopoulos of the Dallas Morning News. "I think we do, I think the personnel group does. The coaches do. And more importantly I think Dak [Prescott] really feels good working with him. At the same time we're not naive. We're certainly looking for interior offensive linemen as well as the safety position. It's no secret. If we can find something that makes sense, we want to improve our football team."
Frederick is a short-term IR candidate to open the season, but that might not be necessary. The Cowboys are optimistic the All-Pro snapper may recover in weeks rather than months.
The Cowboys already added a safety to their roster in former Kris Richard Seahawks pupil Jeron Johnson, but he's only played four games since the 2015 season and is in Dallas for depth purposes. Xavier Woods remains out, as does his replacement, Kavon Frazier. However, the Cowboys are hopeful Frazier will be sufficiently recovered from his shoulder malady to play in Week 1.
As for the obvious safety upgrade, Jones said the Cowboys have not discussed Earl Thomas with the Seahawks "lately." Thomas remains a holdout, and nothing of note's transpired regarding his Seattle situation in weeks.
Photo courtesy of USA Today Sports Images.