The Jets' cornerback group is extremely green, but that doesn't seem to bother new head coach Robert Saleh. In a conference call with reporters, Saleh indicated that the Jets aren't planning to add an experienced vet to the mix.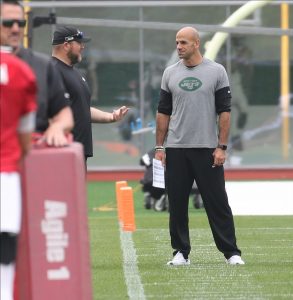 "The difference between Player A and Player Z is minimal, and the only thing that keeps Player Z from becoming Player A is an opportunity and reps," Saleh said (via Brian Costello of the New York Post). "Let's see what happens. Does it always happen? It doesn't, but unless you're willing to be bold enough to coach your tail off and to invest as much as you can into these young men and give them the opportunity to be seen, give them the opportunity to get reps, and give them the opportunity to get better, you'll never know what you might find. So, that's just the belief and the philosophy of not only our coaching staff but the entire organization, and that's something we're committed to."
Saleh also quoted his old mentor, Pete Carroll: "You can't be afraid to play young guys." Saleh must have taken that to heart, because Justin Hardee is the Jets' only corner with 3+ years of NFL experience, and he'll mostly be on special teams. As it stands, the Jets project to start Bless Austin and Bryce Hall on the outside with either Javelin Guidry or rookie Michael Carter II on slot duty.
Of course, there's still a long way to go between now and September. But, for now, it sounds like the Jets won't be in the mix for veteran corners like Richard Sherman.
Photo courtesy of USA Today Sports Images.