Back in May, Bills GM Brandon Beane said that he would release players who refused to receive the COVID-19 vaccine. Soon after, the league office got in touch with Beane to let him know that teams cannot cut players solely for that reason. Now, NFLPA chief exec DeMaurice Smith has weighed in with his thoughts.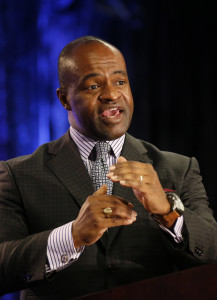 [RELATED: NFL Says Teams Can't Cut Players For Refusing Vaccine]
"When a general manager speaks out and says something that is not only inconsistent with league policy, but just has a rank disregard for the rights of our players, I don't know any other way of characterizing that other than just the stupidity that underlines it," Smith said (via Liz Mullen of Sports Business Journal.)
Given the NFL's clarification, Smith probably doesn't have much to worry about on this front. Still, his comments show that the players' union will be keeping a watchful eye on the waiver wire for any questionable cuts.
Beane's comments raise a number of questions about a player's personal right to say no to the vaccine. Beyond that, one has to wonder how the NFL would handle this type of situation in practice. What happens if a team cuts someone for refusing the vaccine while citing their performance as the reason for the release? In that case, the union would face an uphill battle.