Despite an impressive workout for the Cardinals, Michael Crabtree remains a free agent. The report of his deal turned out to be premature, and we now know why the 31-year-old wide receiver is not a member of the Cards a day later.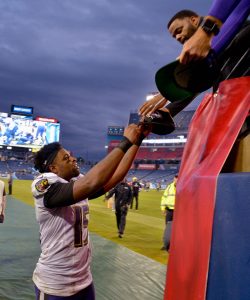 At the conclusion of Crabtree's Monday workout, the Cardinals made what the veteran wideout appears to have deemed a stunning offer. The Cards proposed a one-year, $2.5MM contract to Crabtree, Mike Florio of Pro Football Talk reports. While that deal could have escalated to $4.5MM based on performance, Crabtree was "taken aback" when he received the offer, per Florio.
Crabtree expected an offer along the lines of the ones the Cowboys and Lions, respectively, made Randall Cobb (one year, $5MM) and Danny Amendola (one year, $4.25MM), Florio adds, given that those veteran pass catchers produced less than he did in 2018. The parties did not discuss a deal prior to Crabtree's workout.
The Ravens' Joe Flacco-to-Lamar Jackson switch restrained Crabtree (607 receiving yards last season) and John Brown, with the former averaging only 19.2 receiving yards per game with Jackson at the controls. But Brown signed for three years and $27MM, with $11.6MM in guarantees. At this juncture of the NFL calendar, free agents are often forced to settle on price. Crabtree's most recent contract — a three-year, $21MM Ravens pact with the Ravens — occurred last March.
Kliff Kingsbury remains receptive to a Crabtree partnership, telling AZCardinals.com's Darren Urban "anything can happen" (Twitter link). That doesn't sound particularly promising regarding a Crabtree-to-Arizona path, especially considering the Cardinals drafted three wide receivers to join a team already housing Larry Fitzgerald and Christian Kirk. But the Crabtree workout marked the first news about the former 49ers, Raiders and Ravens wideout since his Baltimore release.
Additionally, former Cowboys wide receiver Terrance Williams took part in the same workout Crabtree did, per Florio. So did Akron alum Kwadarrius Smith.