The Vikings have agreed to sign linebacker Todd Davis, according to NFL.com's Tom Pelissero (on Twitter). Financial terms of the deal are not yet known, but it'll be a one-year pact for Davis and the Vikes.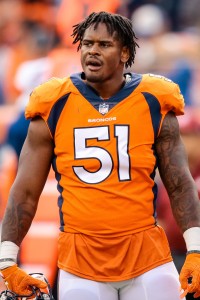 Davis stood as one of the Broncos' longest-tenured players up until his release in early September. The Broncos opted for extra cap space over the veteran, but he was still productive in 2019. Last year, he notched a career-high 134 tackles, tying him for eighth on the NFL leaderboard.
Interestingly, Davis has largely been off the radar since he was released by Denver three weeks ago. His former head coach Gary Kubiak – who now serves as the Vikings' offensive coordinator – will be happy to welcome him to Minnesota.
The Vikings could use an experienced player like Davis, particularly in the wake of Anthony Barr's season-ending pectoral injury. Despite all of their defensive talent, the Vikings are 0-2 after opening the year with losses to the Packers and Colts. It won't get any easier this week, as they take on the 2-0 Titans on Sunday afternoon.
Photo courtesy of USA Today Sports Images.