Chris Culliver isn't the only cornerback the Colts signed today. Indianapolis also inked corner Corey White, placed corner Darryl Morris on injured reserve, and waived/injured guard Blake Muir, the club announced.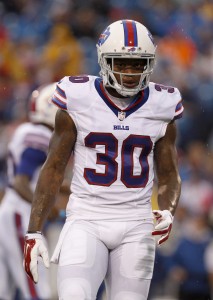 The Colts are clearly on the hunt for defensive back depth, and White will give them just that. A four-game starter for the Bills in 2015, White appeared in 15 total contests and played on a roughly a third of Buffalo's defensive snaps. During that time, White posted 28 tackles, two interceptions, and four passes defensed. Additionally, White saw action on more than half of the Bills' special teams plays.
White, 27, signed with the Jets in May, but was subsequently released from injured reserve earlier this month after suffering a back injury. Like Culliver, then, White's health may be an important factor in just how much he can contribute early in the season. If available from a medical standpoint, White certainly boasts more experience than any Colts corner not named Vontae Davis.
Morris, meanwhile, was a rotational defensive back who appeared on 33.4% of Indianapolis' plays in 2016. The 26-year-old started two games and earned a respectable No. 53 ranking among 110 qualified corners, per Pro Football Focus. It's possible Morris will be released from injured reserve in the near future if he returns to full strength.