The Chargers have declined their 2019 option on defensive tackle Corey Liuget, the club announced tonight. However, Los Angeles also indicated it would be open to re-signing Liuget at a reduced rate.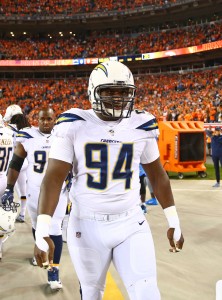 Liuget, 28, agreed to a reworked contract in advance of the 2018 campaign that changed his 2019 season to an option year. Under the terms of that deal, Liuget was scheduled to collect a $4MM roster bonus on March 15. Instead, Liuget will now hit the free agent market two days earlier on March 13. Because the Chargers opted not to exercise his option (and didn't outright release him), Liuget will still factor into the NFL's compensatory pick calculations.
Had the Chargers picked up Liuget's option, he would've been under contract in 2019 with a base salary of $4MM. That total, plus his $4MM roster bonus and $1.5MM of prorated bonus money would've given him a cap charge of $9.5MM. Los Angeles likely viewed that as an untenable figure given that Liguet played in only six games a year ago.
Liguet missed the first four games of the 2018 season after being handed a four-game performance enhancing-drug suspension. That ban essentially forced Liuget to accept his aforementioned pay cut, and ensured he didn't appear in a game until Week 5. After coming back, Liuget five tackles for loss and 1.5 sacks while earning a 66.9 grade from Pro Football Focus, a mark that would have ranked him as a middling defensive tackle if he had enough snaps to qualify.
The Chargers will now have now have a vacancy along the interior of their defensive line, especially given that fellow defensive tackles Brandon Mebane, Darius Philon, and Damion Square are all free agents. Liuget, meanwhile, will join a free agent class that includes not only those fellow 2018 Chargers, but options such as Grady Jarrett, Sheldon Richardson, and Ndamukong Suh.
Photo courtesy of USA Today Sports Images.