In a two-week span this May, Jared Veldheer went from the free agent market to the Patriots to retirement. A starter in each of his nine NFL seasons, Veldheer called it quits — largely because of a previous injury.
Serving as the Broncos' right tackle last season, Veldheer dealt with a knee malady that shelved him for four games. But that was not the health-related concern that drove him to backtrack on his decision to sign with the Patriots.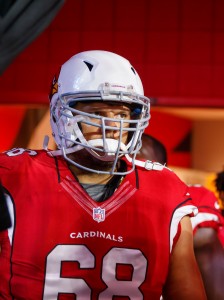 "My hips, particularly my left one, was in pretty bad shape (after the season)," Veldheer said, via MLive.com's Peter Wallner. "When March rolled around I thought I could give it a go, but once I went out there to do actual football stuff, the hip felt exactly how it did at the end of the season. There was just no way I was going to put my body through that. I couldn't conceive even trying to make my body do that."
Stem cell therapy and other treatments did not do the trick, Veldheer added. In addition to this hip trouble, the 32-year-old tackle dealt with a litany of injuries late in his career. An ankle problem ended his 2017 season and lingered into 2018, and early last season Veldheer suffered a concussion. A partially torn triceps muscle ended his 2016 campaign with the Cardinals.
Veldheer signed a one-year, $3.5MM deal with the Patriots, to serve potentially as insurance for Isaiah Wynn. The second-year Patriots left tackle is recovering from the torn Achilles' tendon that erased his rookie season. After one OTA practice, Veldheer said he informed Bill Belichick of his decision.
"(Deciding to retire) was easy because of knowing what my body was telling me, but it was hard because I was leaving a very good situation being with the Patriots," Veldheer said. "(Belichick) understood, and everyone in the NFL building understands that the sport can do a number on your body and different guys have different timelines on how long they can make it through."
Photo courtesy of USA Today Sports Images.