The Colts placed cornerback D.J. Killings on injured reserve and waived cornerback Arthur Maulet, according to a team announcement. The Colts already plucked offensive lineman Josh Andrews from the Eagles' practice squad to fill one roster spot, but they have one more vacancy left to fill.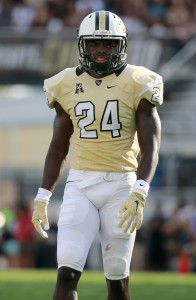 Killings was promoted to the 53-man roster from the practice squad last week, but an ankle injury limited him in practice. It turns out that his ankle injury is severe enough to rule him out for the remainder of the season.
It's a frustrating turn of events for Killings, but he's been here before. He lost his 2015 season at UCF to injury but bounced back in the next season to start in all 13 games. He recorded 42 tackles, three tackles for a loss, one sack, and 11 pass break-ups in his final year on campus, leading to a healthy amount of interest following the 2017 draft. Killings will now set his sights on the 2019 season when he'll look to see his first live action in the NFL.
Photo courtesy of USA Today Sports Images.