The NFL has cleared a pair of former Jets first-round picks. Neither linebacker Darron Lee nor defensive lineman Leonard Williams will face league punishment stemming from their an altercation at the Governors Ball Music Festival on Randall's Island in June.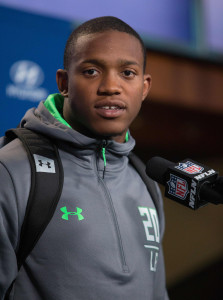 [RELATED: Latest On Hackenberg, Petty, Kickers]
"Following a review, we concluded there was insufficient evidence to support a finding that there was a violation of the personal conduct policy," an NFL spokesman said in a statement.
Reportedly, Williams pushed Lee away as he was arguing with a woman who may have been his girlfriend. One eyewitness said that Lee's argument with the woman turned physical, but the league found no proof to substantiate that claim. Williams, it seemed, was simply trying to break things up. Neither player was arrested.
Lee, a 2016 first-round pick, appeared in 13 games (nine starts) with the Jets last season, compiling 73 tackles and one sack. Williams, a first round choice in 2015, had seven sacks and 68 total tackles last year.
Photo courtesy of USA Today Sports Images.