In a recent chat with Joe Person of The Athletic, Panthers GM Marty Hurney said he did "nothing that was out of bounds" while talking with Mississippi State quarterback Tommy Stevens during the draft. If the NFL disagrees with Hurney's assessment, the Panthers and Saints could be penalized by the league office.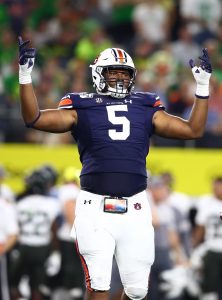 Beyond that weirdness, Hurney was also asked about the Panthers' eventful offseason and their plans moving forward. Here's a look at some of the highlights:
On No. 7 overall pick Derrick Brown and whether he would have traded down if Brown was gone
Every year we go into the draft, and wherever we're picking, we have a group of guys that we would take there. Obviously, he was the guy we were hoping that would get to us, and we're fortunate that he did…You consider everything. How you approach the draft is how you approach everything else every day: You cover every scenario. So we had all sorts of options. But it didn't get to that point. 
On Cam Newton's ongoing free agency
I don't know. I'm just focused on us and trying to get us the best we can be for this season. I can't speak for other teams. I do have great respect for him, but I can't answer for other teams.
On Christian McCaffrey's record-breaking extension
Christian's ability and his performance as a receiver is very unique to the running back position, as you can see by the 1,000-1,000 marks that he surpassed last year. He really is a different type of running back at the position than maybe we would've thought of three, five, ten years ago because of his ability to create mismatches as a receiver, his ability to run between the tackles, his ability to make big plays. He really is a combination running back/wide receiver. All those things led to us — and as you said, his ability as a leader, the type of commitment that he shows, the type of person that he is, the way he comes every day to get better — all those things went into play.
On the notion of rebuilding
I approach it as one good decision at a time. Every year you have a lot of changes. I think the league average is 33 percent or so, and maybe over 60 percent every two years. Obviously, we've had a lot of changes, not only on the player side but the coaching side. You're always trying to build the most competitive team you can build. I think we have gotten younger, and I think we have a good mix of veterans and young players. We're just excited to work with them and improve every day. 
Photo courtesy of USA Today Sports Images.