The Commanders indeed made Chase Young available following the Montez Sweat trade, and they will send him to one of the NFC favorites. The 49ers are acquiring the former Defensive Rookie of the Year, Fox Sports' Jay Glazer reports.
This marks San Francisco's third high-profile defensive line addition this year. The team gave Javon Hargrave a big-ticket deal in March, and the Broncos sent over Randy Gregory a few weeks ago. After two sluggish defensive outings, the 49ers are not stopping there. Barely an hour before the trade deadline, Young will follow Sweat out of Washington.
[RELATED: 49ers Pursuing Bears CB Jaylon Johnson]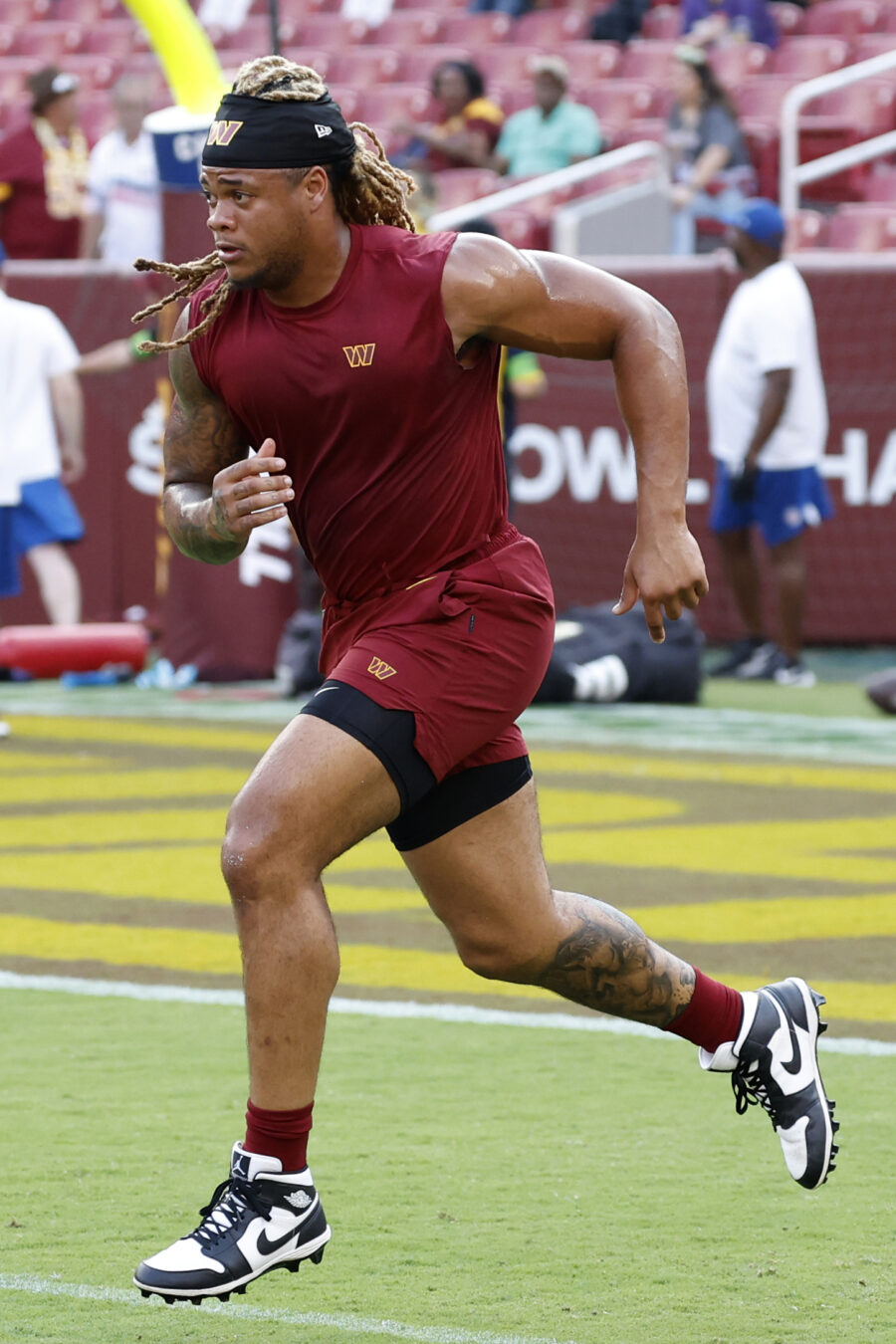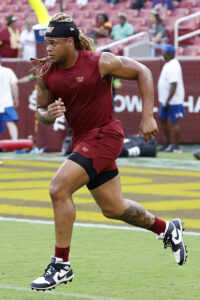 Young will fetch the Commanders a 2024 third-round pick from the 49ers, NFL.com's Ian Rapoport tweets. It will come from the 49ers' endless supply of NFL-awarded compensatory picks — for seeing minority staffers hired as HC or GM elsewhere — according to ESPN's Adam Schefter. The Bears sent the Commanders a second-rounder for Sweat earlier today.
This will reunite Young with former Ohio State teammate Nick Bosa and add to one of the most star-studded defensive lines in recent NFL history. The 49ers also have veteran defensive tackle Arik Armstead in place. The prospect of a Bosa-Armstead-Hargrave-Young D-line is imminent, which stands to bolster a team coming off two upset losses.
For the Commanders, this constitutes a rebuilding step. Although the 3-5 team has not made Jonathan Allen available and will keep the veteran defensive tackle alongside the recently extended Daron Payne, its prized D-end duo is gone in a day. The Commanders did not pick up Young's fifth-year option in May, putting both he and Sweat in contract years. While it would have been logical for a coach on the hot seat to push to keep both players, The Athletic's Dianna Russini reports ownership played a major role in these trades being completed.
Others in the Commanders' building wanted the team to retain the young defensive ends, Russini adds, but ownership looks to have led the way here. It was assumed either Sweat or Young would be franchise-tagged in 2024, but Washington has instead cleared the decks for Day 2 draft capital. Considering where Young was as a rookie, this represents an underwhelming return. But the former No. 2 overall pick missed half of the 2021 season and almost all of 2022 due to the ACL tear and patellar tendon rupture he suffered in November 2021. It has taken him a while to rebuild his value, and the former Heisman finalist will finish out his attempt to do so in San Francisco.
Through seven games (six starts) this season, Young has five sacks and nine QB hits. The talented edge rusher has shown much better form compared to the previous two seasons. On that note, Young was believed to be uninterested in extension talks this year. It will be interesting to see if this bet on himself will carry over to the Bay Area, as the 49ers likely will want him as more than a rental. San Francisco will have the option of franchise-tagging Young in 2024. With Brock Purdy's rookie contract in place, the 49ers may attempt to do what the Commanders would not: have four D-linemen signed to big-ticket contracts.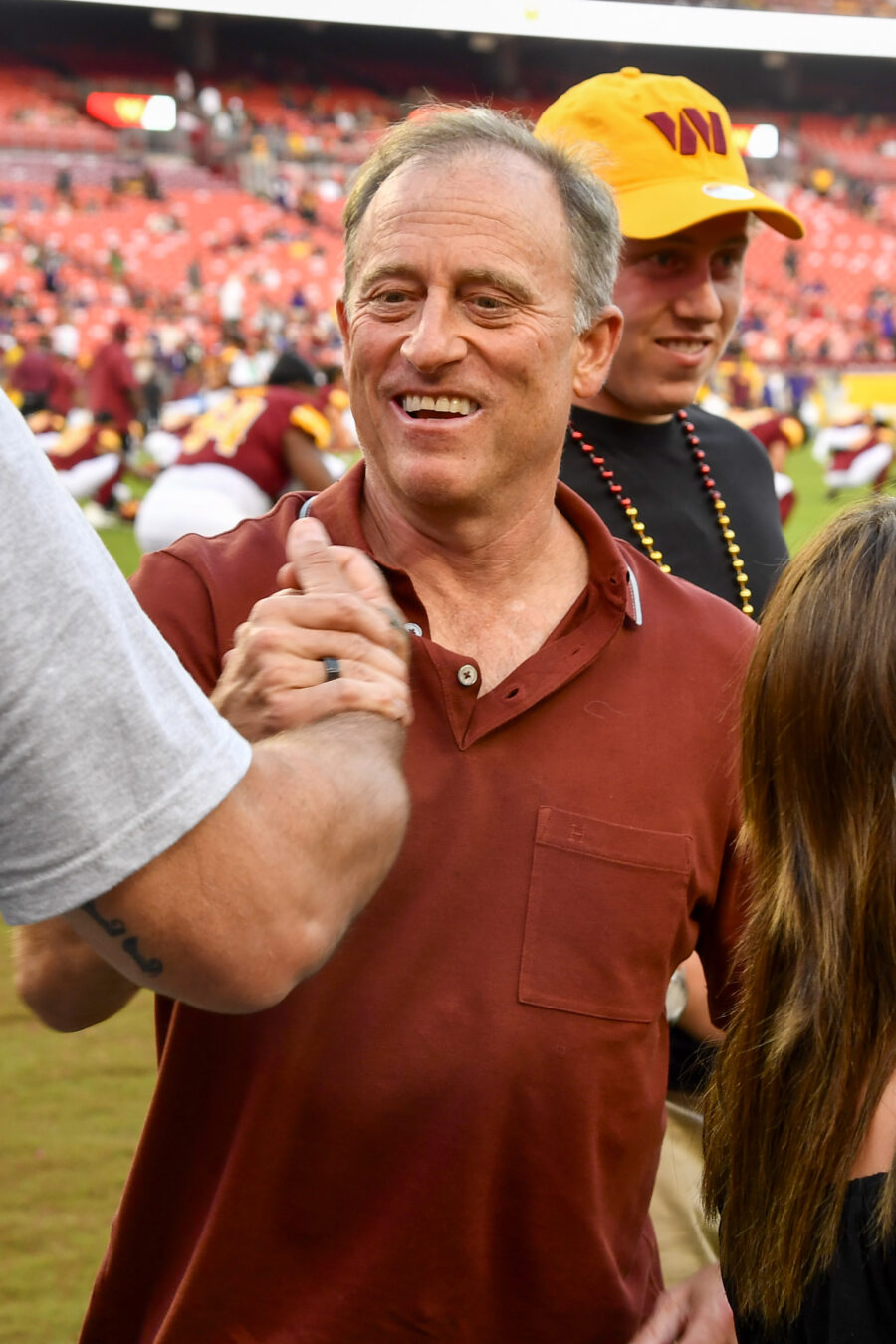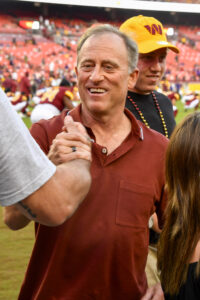 While the 49ers will be giving up a third-round pick, the team had two selections in Round 3 of next year's draft already. Having continually seen their minority assistant coaches and front office staffers earn HC or GM jobs elsewhere, the 49ers have collected a handful of third-round picks under the revised Rooney Rule. They have two more coming in 2024, via the Titans' hiring of Ran Carthon as GM and Texans hiring DeMeco Ryans as HC. This stream of third-round picks goes through 2025, via NBC Sports Bay Area's Matt Maiocco.
San Francisco is also expected to pick up a compensatory third-rounder in exchange for the Broncos signing Mike McGlinchey to a top-five right tackle contract. The team could add another third-round comp pick if Young leaves, but it would seem the 49ers would prefer this not be a true rental add.
49ers D-line coach Kris Kocurek has been credited with leading emergences of various Bosa sidekicks — from Arden Key to Samson Ebukam to Charles Omenihu. The well-regarded position coach will work with a higher-end talent in Young, with Gregory now in place as more of a rental. Despite Gregory's Broncos-built deal running through 2026, none of the money on that $14MM-AAV pact is guaranteed beyond 2023. The 49ers are also paying Gregory the veteran minimum, with the Broncos responsible for the rest.
John Lynch had said the 49ers planned to roll over most of their NFL-leading cap-space number to 2024. Young will only be attached to a $1MM base salary through season's end. The 49ers will retain much of their cap space, though a chunk would need to go to Young — via an extension or tag.
As the 49ers will attempt to use this acquisition to bounce back from their two disappointing defensive showings, the Commanders will see their second Eagles defeat this year key what could be an awkward transition. Rivera is squarely on a hot seat, having not produced a winning record yet in Washington. This would be the second time the former NFC champion HC would be fired by a new owner, with that happening in David Tepper's second season (2019). Sweat and Young's exits will certainly weaken the Commanders, even with ex-seventh-rounder Casey Toohill having four sacks as a backup.
The Commanders have never made five picks in the first three rounds of a draft previously (h/t ESPN's Field Yates), with the George Allen era and Robert Griffin III trades headlining past hurdles on this front. In Harris' first months as owner, the team will have this opportunity. Of course, it will risk seeing Sweat and Young play their best years in other NFC cities.