Linebacker Malik Jefferson has signed his rookie deal with the Bengals, according to a tweet from his agency. Jefferson, the No. 78 overall pick in the draft, will earn $3.83MM over the course of his four-year deal.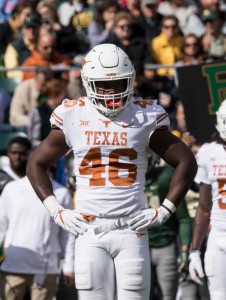 Jefferson opted to leave Texas after his junior season and was probably expecting to go late in the first round or somewhere in the second round. He ignored the College Advisory Committee's recommendation that he stay in school and wound up as a third-round pick. For what it's worth, he claims he does not regret the decision.
"It's not really good feedback," Jefferson said. "If a guy wants to come out early, they have to make a decision on their own. Really, if you're not like a top-10 guy coming out early, it's just up in the air from there. You just don't know. Anything can happen…So you can be making money for the university, struggling, trying to eat dining hall food, waking up early, having to go through extreme pressures and not getting paid for none of that. Or you can not go to school, just play football all day, study film and get better and work out all day and max yourself out."
Instead of continuing his education without being compensated for playing, Jefferson will now back up Nick Vigil and Vontaze Burfict. After racking up 233 tackles, 25.5 tackles for loss, and six pass breakups over the course of his collegiate career, Jefferson feels like he's prepared to play at the pro level.
Jefferson's signing leaves Ohio State defensive end Sam Hubbard as the Bengals' only unsigned draft pick. Hubbard went No. 77 overall, one pick before Jefferson.
Photo courtesy of USA Today Sports Images.