The Colts have wrapped up their draft class. The team announced last night that they've signed third-round linebacker Bobby Okereke.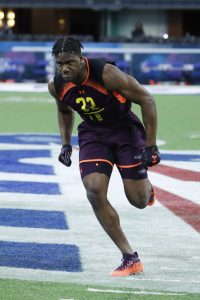 Indy selected the Stanford product with the 89th pick of the draft. The 6-foot-1, 239-pound linebacker had a standout collegiate career, compiling 240 tackles, 10.5 sacks, and three forced fumbles in 51 games. He earned an All-PAC-12 Honorable Mention nod in both 2017 and 2018, and he served as one of the team's captains during his senior campaign.
We learned some discouraging news about the rookie linebacker earlier this month. Back in 2015, a Stanford student told school administrators that she was sexually assaulted by a player on the football team at a fraternity party, and the case went on to make national news. Colts GM Chris Ballard later told beat reporters that the player in question was Okereke, although the linebacker was not charged in connection with the alleged incident.
Okereke informed the Colts of the matter, and Ballard said the organization investigated the incident themselves. Because there were no charges filed or disciplinary action against the Stanford product, the Colts went ahead with the selection. Ballard also cited Okereke's otherwise clean record as one of the reasons for drafting him.
The Colts had been hunting around for a three-down linebacker to pair with Darius Leonard, and the team was apparently encouraged by Okereke's performance during voluntary workouts. The rookie will likely be competing with Anthony Walker for the club's starting MIKE spot.
As we mentioned, the organization has now signed all of their 10 draft picks, which we've listed below:
2-34: Rock Ya-Sin, CB (Temple)
2-49: Ben Banogu, LB (TCU)
2-59: Parris Campbell, WR (Ohio State)
3-89: Bobby Okereke, LB (Stanford)
4-109: Khari Willis, S (Michigan State)
5-144: Marvell Tell, S (USC)
5-164: E.J. Speed, LB (Tarleton State)
6-199: Gerri Green, DE (Mississippi State)
7-240: Jackson Barton, T (Utah)
7-246: Javon Patterson, C (Ole Miss)
Photo courtesy of USA Today Sports Images.