There's no hiding the fact that DeSean Jackson struggled in his first season with the Buccaneers, catching 50 passes for 668 yards and three touchdowns. Buccaneers coach Dirk Koetter didn't believe that all the struggles fell on the shoulders of the three-time Pro Bowler as he never looked to gain a rapport with quarterback Jameis Winston.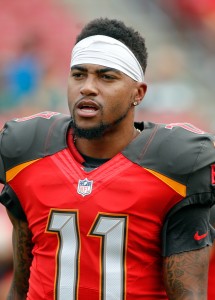 "DeSean … we did not get the production out of DeSean. And when I say production out of DeSean, when you go back and look at the tape, we have a tape of just plays where we didn't hit DeSean," Koetter said to Rick Stroud of the Tampa Bay Times. "DeSean was where he was supposed to be. He was either behind the defense, in between the corner and safety, or he was in position to make explosive plays and we didn't get the ball to him. That's on myself, it's on Jameis to do better. I think DeSean and Jameis have said they need to spend more time working together and I think they're addressing that. 
Jackson has a potential out on his deal after next season. If the Buccaneers were to cut Jackson prior to this season, the team would absorb $7.5MM in dead cap space. He signed a three-year, $33.5MM deal with the Buccaneers last offseason, with $20MM guaranteed at signing. A one-car crash last Christmas Eve in Tampa, Fla., in which the vehicle was left unattended, was linked to a car owned by Jackson but the authorities are no longer actively investigating the case.
Stroud notes that Jackson trains in California during the offseason, which likely won't help with developing a rapport with Winston, and that he missed out on most of the team's voluntary OTAs last offseason. Stroud also opines that Chris Godwin could take on an extended role in the offense in the near future.
Godwin, who the team took in the third round of last year's draft, had 34 catches for 525 yards and a touchdown last season, including nine catches for 111 yards (and the lone touchdown) in the team's regular-season finale.
"I think Chris is capable of being a No. 1 if you want him to be," Koetter said. "He can also be your two, he can be your three. His ego does not show up. He'll do what you ask him to do and he'll do it to the best of his ability and he'll play through discomfort."
Photo courtesy of USA Today Sports Images.