Wide receiver DeSean Jackson wants to be traded, but the Buccaneers don't sound inclined to fulfill his request. When asked about the possibility of a DJax deal over the weekend, GM Jason Licht indicated that Jackson will be a part of the team beyond Tuesday's trade deadline.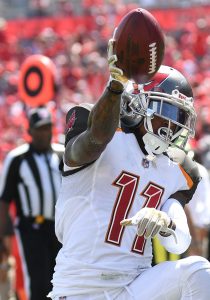 "I'll say this. DeSean Jackson and I have a great relationship," Licht said on Sunday (via Rick Stroud of the Tampa Bay Times). "He's one of my favorite people on the team, and Dirk [Koetter] has a great relationship with him and he's obviously a terrific player for us. We're 3-3, we're headed into big game today, we've got a big stretch of games coming up for us, and we don't like to talk about these stories. But I can say that my job and our job here is to field the best roster that we can to win games, and DeSean is a huge, huge part of that, not just today, but for the rest of the season. Other than that, I don't have anything else to add."
Of course, after yesterday's 37-34 loss to the Bengals, the Bucs are now 3-4, and their offense is chock full of question marks. Jackson was targeted eight times against Cincinnati, but he wasn't able to do much with those balls outside of his 60-yard touchdown grab in the second quarter.
Jackson is in Year 2 of a three-year deal, $33.5MM deal he signed with the team in 2017. He has yet to develop a rapport with quarterback Jameis Winston, as evidenced by his disappointing 50/668/3 stat line last season. Licht says he wants to hold on to the veteran, but the soon-to-be 32-year-old would rather join a team that can utilize his deep field skills.
For what it's worth, the Bucs are considering benching Winston in favor of Ryan Fitzpatrick, a move that could benefit Jackson. With Fitzmagic on the field for the first the first two games of the season, Jackson had nine receptions for an eye-popping 275 yards and three scores, good for an average of 30.56 yards per catch.
Photo courtesy of USA Today Sports Images.