NFL free agency will get underway on Thursday, March 9th, and while the list of free agents will change between now and then, we do have some idea of who will be available when free agency kicks off. The frenzy is right around the corner and it's time for us to break down the outlook for each position. We'll start today on offense, before getting to defense and special teams later this week.
Listed below are our rankings for the top 15 free agents at each offensive position. The rankings aren't necessarily determined by the value of the contracts that each player is expected to land in free agency, they are simply the players we like the most at each position, with both short- and long-term value taken into account. Restricted and exclusive-rights free agents are not listed here since they are unlikely to actually reach the open market.
We'll almost certainly be higher or lower on some guys than you are, so we encourage you to make your voice heard in our comments section to let us know which free agents we've got wrong.
Here's our breakdown of the current top 15 free agents by offensive position for 2017:
Quarterback:
Honorable mention: Shaun Hill
As of this writing, Kirk Cousins is far and away the best potential free agent quarterback in this year's crop. By the time March gets here, we're fully expecting Cousins to be spoken for. Ultimately, the Redskins could franchise tag him, work out a long-term deal with him, or swing some type of trade that nets them a massive haul of talent and picks. That will leave a crop of retread quarterbacks that would probably best serve as transitional options for QB-needy teams.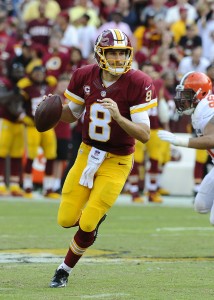 Mike Glennon hasn't done much in his 18 career starts, but talent evaluators are still in love with his size and potential. The 6'7″ quarterback will get more money this spring than you might expect, particularly since there are no surefire QBs in this year's draft.
Teams looking for stopgap QBs will find a plethora of experienced, though perhaps uninspiring, signal callers. Nick Foles, Brian Hoyer, and Ryan Fitzpatrick all have their best football behind them, but they could hold down the fort for a team in 2017 and maybe even find some success if the defense is strong enough. Of course, the ideal role for those guys would probably be as a backup to a better, younger quarterback.
Running back:
Consider Le'Veon Bell's name written in Etch-A-Sketch, because he is very unlikely to get near the open market. That could leave Eddie Lacy as the best tailback available in March. Lacy has struggled with weight issues in recent years and he lost much of the 2016 season to injury. Still, he is a bruising back that could nicely complement a quicker ball carrier. Before he was shut down for the year, Lacy was averaging 5.07 yards per carry in five games for Green Bay.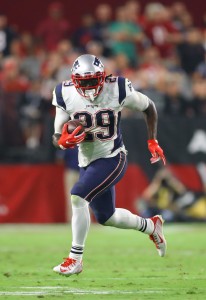 In the last two years, LeGarrette Blount seems to have put his off-the-field troubles behind him. Whether that's a sign of his maturity or a product of the Patriots' culture remains to be seen. Teams can ignore his past indiscretions, but they will be wary of his age. Blount turns 31 in December.
Latavius Murray has shown glimpses of being a special running back, but he has been inconsistent and his 4.0 yards-per-carry average of the last two years isn't overly impressive. Darren McFadden ran for more than 1,000 yards in 2015, but 2016 was pretty much a lost year for him. Jacquizz Rodgers seemed to break out last year, but he wound up succumbing to the same injury bug that took down a host of other Buccaneers running backs. Speaking of injuries, Rashad Jennings was initially brought to the Giants to be a workhorse back, but two of his three years in New York were marred by ailments. Everyone in this tier has the potential to make a difference, but none should be counted on as anyone's main guy in 2017.