Tampa, Fla. police are investigating a crash on Christmas Eve that involved a vehicle registered to Buccaneers receiver DeSean Jackson, Mike Garafolo of NFL.com reports.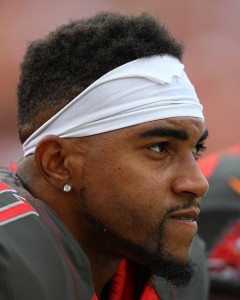 The vehicle, a Chevy Silverado, was found unattended after it appeared to leave the road and struck a tree Sunday evening. Police discovered 6.3 grams of marijuana and also found two .38 caliber hollow-point bullets in the vehicle. In the state of Florida, the bullets are legal and any marijuana less than 20 grams is considered a misdemeanor offense. The police report indicated officers made contact with Jackson, who responded to the scene.
Per Garofolo's source, "Jackson initially declined to cooperate, then gave officers the name of the alleged driver but declined to assist officers in getting the driver back to the scene."
A representative of Jackson, Denise White, said "It was a friend of DeSean's who borrowed his car while he was out of town. None of what was in the car was his obviously. He's dealing with the person that was using it without his knowledge privately. The incident is being handled."
Buccaneers general manager Jason Licht responded to the reports in a statement:
"We are aware of a one-car accident involving a vehicle registered to DeSean Jackson on the night of Dec. 24. Our understanding is that DeSean has been in contact with authorities and is cooperating with the investigation."
Jackson, who was inactive and did not travel to the team's Week 16 matchup with Carolina, has tallied 50 receptions for 668 yards in his first season with the team. No arrests have been made and the case remains open.
Photo courtesy of USA Today Sports Images.