Patriots tackle Isaiah Wynn returned to practice on Wednesday, meaning that he is now designated for return from injured reserve. It's big news for a team that boasts a perfect record, but also has some room for improvement up front.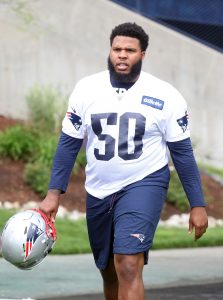 Wynn takes the second and final allotted Pats IR-DTR spot, meaning that the season is officially over for Josh Gordon and the rest of the Patriots' players on injured reserve. The Patriots reportedly had no designs on bringing Gordon back this season, but the wide receiver insists that he'll be healthy and ready to play before the year is through. Ultimately, this will probably result in Gordon's release, with the chance that he could hook on with a different club in 2019. In case you missed it: The first IR-DTR slot was used to bring back wide receiver N'Keal Harry.
Wynn, a Pats 2018 first-round pick, left the team's Week 2 shutout in Miami due to turf toe and was placed on IR soon afterwards. He'll get nothing but hand-pounds and hugs now that he's back on the practice field – the Pats have missed him, especially in a season being spent without center David Andrews.
In other Pats injury news – tight end Matt LaCosse (knee) was also back at practice on Wednesday.
Photo courtesy of USA Today Sports Images.