Keelan Doss is headed back to Oakland after all. Doss became a breakout star on HBO's 'Hard Knocks', but was released by the Raiders at final cuts and ended up signing to the Jaguars' practice squad.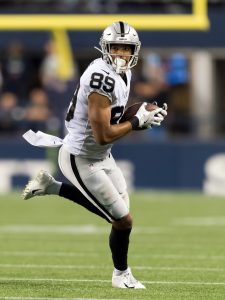 When the Raiders cut Antonio Brown, they tried to sign Doss back. Jacksonville then agreed to pay him a rookie minimum salary while on the practice squad in order to keep him. But now the Raiders have upped their offer to something he simply couldn't refuse, and Doss is signing back with the team, according to Mike Garafolo of NFL Network (Twitter link). To lure him back, Oakland is giving Doss a whopping $300K signing bonus and $495K fully guaranteed base salary.
It's a massive step-up for Doss. In just a couple of days, he went from making a non-guaranteed practice squad salary to getting $795K guaranteed. Giving a player a multi-hundred thousand dollar signing bonus to come off another team's practice squad is nearly unprecedented, and shows how badly the Raiders wanted receiver help after Brown's departure.
Doss is an undrafted rookie from UC Davis. A native of the Bay Area, he'll be completing a homecoming that was widely documented on the popular HBO series. Doss shined at times during the preseason, and set school records for touchdowns and all-purpose yards.
Photo courtesy of USA Today Sports Images.