The Dolphins seemed to sign veteran quarterback Jay Cutler as more of a place holder until Ryan Tannehill returned from injury in 2018. However, it looks like Cutler is intent on suiting up once again for a team next season.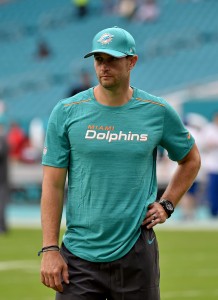 When asked by reporters on Wednesday about his football future, Cutler simply responded, ""I want to play football" (via Armando Salguero of the Miami Herald on Twitter).
Cutler will be entering his age 35 season in 2018, but will be a free agent after signing a one-year contract with Miami in training camp. The veteran signal caller's openness to keep playing is rather surprising given that he was already set to retire as a broadcaster after a long 11-year career with the Broncos and Bears. His play has been inconsistent for a majority of his time in the NFL, but only appeared in five games in 2016 because of a shoulder injury.
This season has shown more of the same with Cutler throwing 19 touchdowns to 14 interceptions. He's only completing 62% of his passes and has accumulated a QBR of 43.3 in the 13 games he's played in this season. These are not quality starting QB numbers and I wouldn't expect Cutler to be very sought after on the open market with how many promising signal callers are becoming available this offseason.
We'll just have to wait and see whether Cutler follows through on his intentions, but it appears even if he does, it'll likely be with another organization as the Dolphins already have their presumptive starter returning in Tannehill.
Photo courtesy of USA Today Sports Images.