Jay Cutler is going from the field to the broadcast booth this year, but before announcing his retirement, Cutler explored his options. The Jets were among the clubs to reach out to Cutler after he was released by the Bears, but timing was ultimately an issue and the two sides never wound up meeting, the quarterback tells ESPN.com's Adam Schefter (audio link).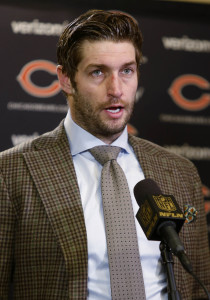 [RELATED: Jets Notes: Eric Decker, Robby Anderson]
"The stars didn't really align for me to get out there," Cutler said (transcript via PFT). "By the time I was scheduled to get out there, my buddy Josh ]McCown] had taken a visit and they worked something out with him. It all worked out. I'm happy for him."
When the Jets reached out to Cutler, the quarterback was up front with the team and said that he wasn't sure if he wanted to continue playing. While Cutler was on the fence, the Jets shifted focus to McCown. Reading between the lines, it sounds like Cutler might have continued playing in 2017 had things timed out better between him and Gang Green.
Cutler reportedly also had "strong" interest in joining the Texans, but things didn't work out on that front either. For now, Cutler's playing days are in the rear view mirror as he gears up for his new career with FOX, but it's clear that the QB still has some desire to play. If the right opportunity comes along for Cutler in the next year or two, it seems possible that he'll listen.
Photo courtesy of USA Today Sports Images.