Jason Garrett wasn't out of a job too long. The Giants are planning to hire Garrett as their new offensive coordinator, a source told Ed Werder of ESPN.com (Twitter link).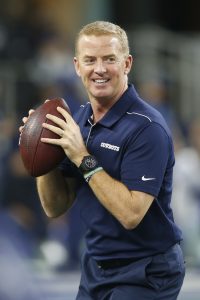 Garrett staying in the division and getting to face the Cowboys twice a year will provide a lot of drama and entertainment, if nothing else. Garrett met with Giants brass a couple of days ago, and apparently everything went well. He caught a lot of flak his last few years in Dallas, but he will be a solid veteran presence to lean on for rookie head coach Joe Judge in New York.
Garrett, who played quarterback in the league for nearly 15 years, will now be tasked with helping to develop Daniel Jones. He spent four years with the Giants as a backup, so this is a homecoming of sorts for him. He'll surely be excited about the opportunity to take on Jerry Jones and his old team. He started his coaching career as the quarterbacks coach with the Dolphins for a couple of years before moving on to Dallas.
Garrett went a perfect 6-0 against the Giants the past three years, which couldn't have hurt his cause with New York's ownership. He was the offensive coordinator for the Cowboys for four seasons before serving as head coach for the past nine. Still only 53, the 2016 NFL Coach of the Year surely has his sights set on becoming a head coach again sometime in the near future. If he can get Jones to take the next step and develop like Dak Prescott did, that opportunity could come relatively soon.
The Giants are entering a new era of football, as they finally appear set to move on from Eli Manning. They fired Pat Shurmur after the season ended and brought in Judge, the Patriots' receivers/special teams coach, to replace him. Judge's staff is starting to fill out, as he already hired away defensive coordinator Patrick Graham from the Dolphins. We heard earlier today the Giants were planning on speaking with Scott Linehan, who worked under Garrett as his OC in Dallas. A reunion could be in the works there.
Photo courtesy of USA Today Sports Images.