The 7-5 Cowboys have put together a four-game winning streak and now sit atop the NFC East standings, though the 6-6 Eagles are hot on their heels. Dallas hosts Philadelphia in a critical divisional matchup this afternoon, and according to Adam Schefter of ESPN.com, Cowboys head coach Jason Garrett has reached out to an old friend to give his club a boost.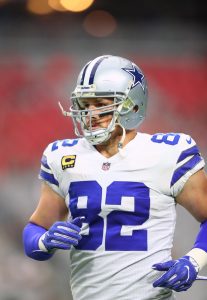 Per Schefter, Garrett has made multiple attempts this season to convince former Cowboys tight end Jason Witten to come out of retirement and rejoin the team. Witten, of course, announced his retirement back in May, and he has served as a color commentator for ESPN's Monday Night Football broadcasts this year (which have not gone nearly as well for him as his on-field career did). Even though Witten is now 36, he did put up 63 catches for 560 yards and five scores last season, and Dallas would kill to have that kind of production from its tight end corps this year.
The Cowboys' have gotten next to nothing from their tight ends in 2018 thanks to injury and poor performance, and Garrett was convinced that Witten could step out of the broadcast booth and back onto the field without missing a beat. The team's offense has come alive since adding Amari Cooper prior to the trade deadline, and Garrett believed Witten's presence would further bolster the unit. However, Witten has firmly resisted Garrett's overtures and is committed to honing his new craft.
The Cowboys drafted Witten out of Tennessee in the third round of the 2003 draft, and he never suited up for anyone else. He piled up 11 Pro Bowl nods and two First Team All-Pro selections in a remarkable career that places him near the top of all major statistical categories for tight ends.
Photo courtesy of USA Today Sports Images.