Jordan Akins visited the Browns on Friday, and the veteran tight end will not leave Cleveland without a contract. The Browns are signing Deshaun Watson's former Texans teammate, according to his agency (on Twitter).
The five-year veteran played with Watson for three seasons and has spent his entire regular-season career in Houston. The Texans reacquired Akins after the Giants cut him before he played a game with the team. Now, he will head to the Browns.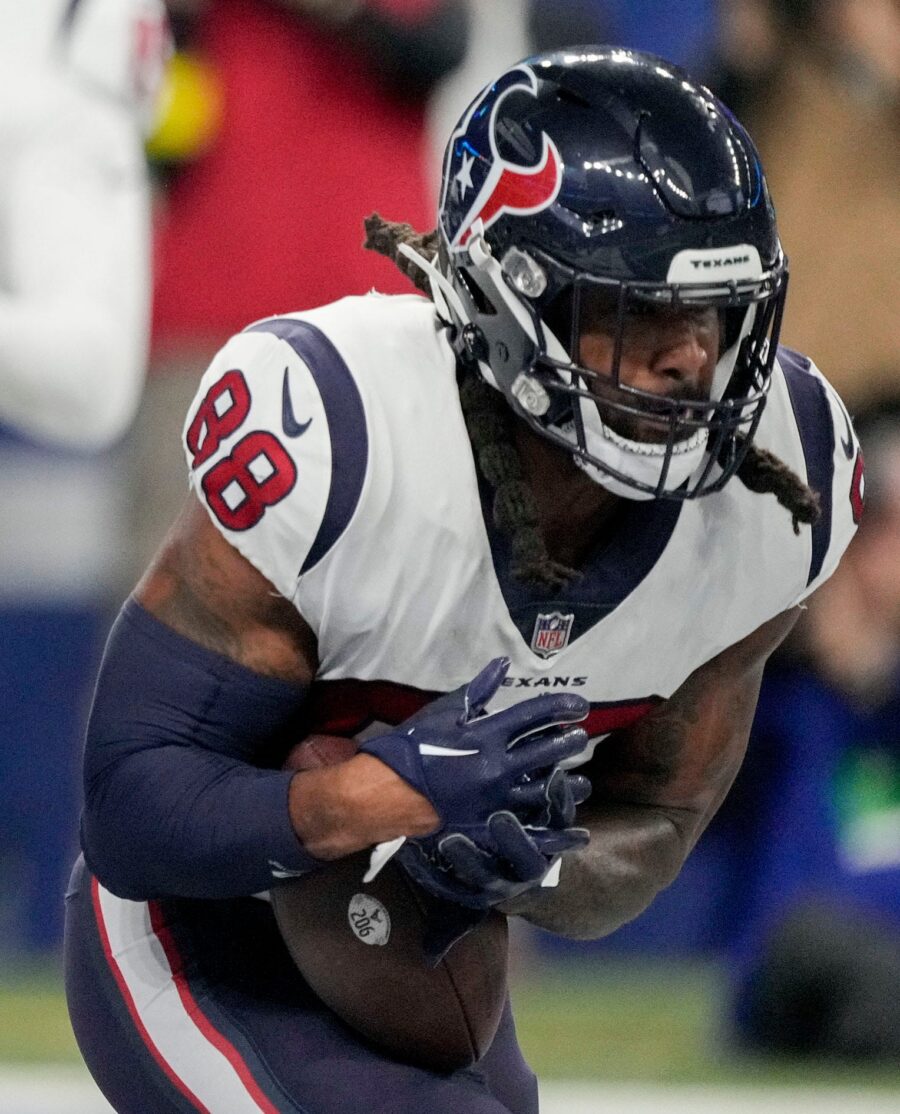 Cleveland is giving Akins a two-year deal worth up to $5.2MM, Aaron Wilson of KPRC2 tweets. Even if that is the max value, it still tops the league-minimum accord the Giants gave him during the 2022 offseason. It represents decent money for a tight end who, despite only being a five-year vet, is entering his age-31 season. The Texas Rangers drafted Akins out of high school in 2010, choosing him in the third round, and the future tight end toiled in the minor leagues for four years before picking up football again.
Akins' failure to make the Giants' 53-man roster last year still preceded a career-high receiving yardage total upon his Texans return. The sixth-year tight end is coming off a 495-yard, five-touchdown season. Touchdown No. 5 ended up reshaping multiple franchises' futures. Akins caught a game-winning touchdown on fourth-and-20, giving Lovie Smith a victory over the Colts in his final game as Texans HC. That result gave the Bears the No. 1 overall pick, and it allowed them to receive a monster trade haul from the Panthers for the selection.
Role in that seminal play (for draft purposes) notwithstanding, Akins has three 400-plus-yard seasons on his resume and has been the most productive Texans tight end over the past several seasons. The Browns, of course, have already paid a tight end near-top-market money, and Akins will fill in behind David Njoku. Harrison Bryant is also going into the final season of his rookie contract; Bryant totaled 239 receiving yards and one touchdown last season.
The Browns also added defensive tackle Maurice Hurst, Mike Garafolo of NFL.com tweets. Hurst is coming off a missed 2022 season; he went down with a torn bicep in July. Hurst, who played two seasons with the Raiders and one apiece with the Chargers and 49ers, has mostly worked as a rotational defensive lineman. The second-generation NFLer did start 10 games for a rebuilding Raiders team as a rookie in 2018. Hurst registered 7.5 of his eight career sacks during his first two seasons.