[UPDATE: CLICK HERE FOR THE LATEST EDITION OF THE TOP 2017 NFL FREE AGENTS BY POSITION]
NFL free agency will get underway on Thursday, March 9th, and while the list of free agents will change between now and then, we do have some idea of who will be available when free agency kicks off. The frenzy is right around the corner and it's time for us to break down the outlook for each position. We'll start today on offense, before getting to defense and special teams later this week.
Listed below are our rankings for the top 15 free agents at each offensive position. The rankings aren't necessarily determined by the value of the contracts that each player is expected to land in free agency, they are simply the players we like the most at each position, with both short- and long-term value taken into account. Restricted and exclusive-rights free agents are not listed here since they are unlikely to actually reach the open market.
We'll almost certainly be higher or lower on some guys than you are, so we encourage you to make your voice heard in our comments section to let us know which free agents we've got wrong.
Here's our breakdown of the current top 15 free agents by offensive position for 2017:
Quarterback:
Honorable mention: Shaun Hill
As of this writing, Kirk Cousins is far and away the best potential free agent quarterback in this year's crop. By the time March gets here, we're fully expecting Cousins to be spoken for. Ultimately, the Redskins could franchise tag him, work out a long-term deal with him, or swing some type of trade that nets them a massive haul of talent and picks. That will leave a crop of retread quarterbacks that would probably best serve as transitional options for QB-needy teams.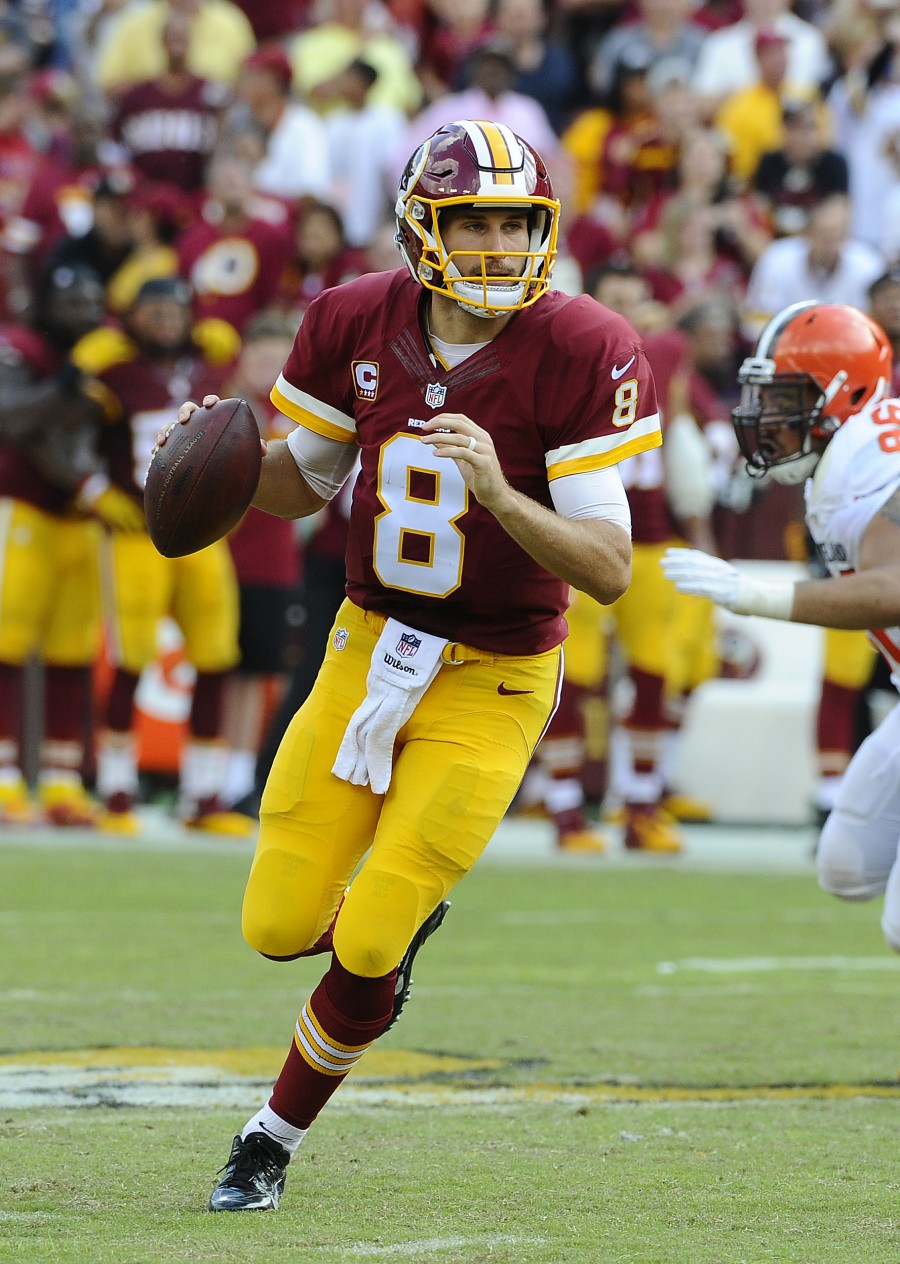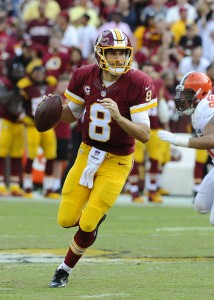 Mike Glennon hasn't done much in his 18 career starts, but talent evaluators are still in love with his size and potential. The 6'7″ quarterback will get more money this spring than you might expect, particularly since there are no surefire QBs in this year's draft.
Teams looking for stopgap QBs will find a plethora of experienced, though perhaps uninspiring, signal callers. Nick Foles, Brian Hoyer, and Ryan Fitzpatrick all have their best football behind them, but they could hold down the fort for a team in 2017 and maybe even find some success if the defense is strong enough. Of course, the ideal role for those guys would probably be as a backup to a better, younger quarterback.
Running back:
Consider Le'Veon Bell's name written in Etch-A-Sketch, because he is very unlikely to get near the open market. That could leave Eddie Lacy as the best tailback available in March. Lacy has struggled with weight issues in recent years and he lost much of the 2016 season to injury. Still, he is a bruising back that could nicely complement a quicker ball carrier. Before he was shut down for the year, Lacy was averaging 5.07 yards per carry in five games for Green Bay.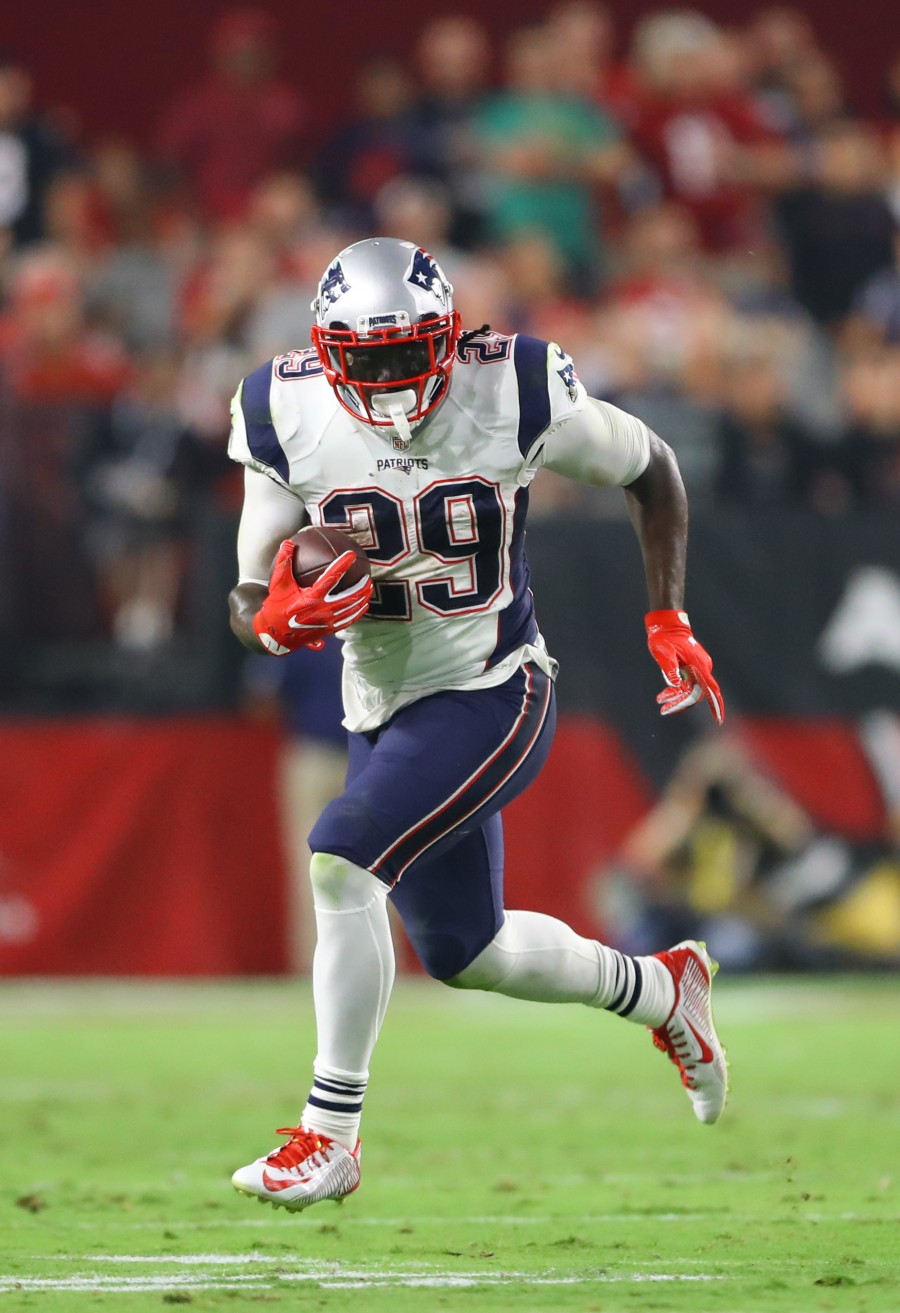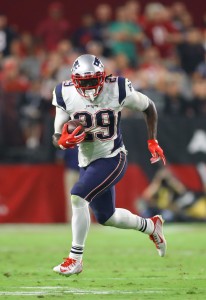 In the last two years, LeGarrette Blount seems to have put his off-the-field troubles behind him. Whether that's a sign of his maturity or a product of the Patriots' culture remains to be seen. Teams can ignore his past indiscretions, but they will be wary of his age. Blount turns 31 in December.
Latavius Murray has shown glimpses of being a special running back, but he has been inconsistent and his 4.0 yards-per-carry average of the last two years isn't overly impressive. Darren McFadden ran for more than 1,000 yards in 2015, but 2016 was pretty much a lost year for him. Jacquizz Rodgers seemed to break out last year, but he wound up succumbing to the same injury bug that took down a host of other Buccaneers running backs. Speaking of injuries, Rashad Jennings was initially brought to the Giants to be a workhorse back, but two of his three years in New York were marred by ailments. Everyone in this tier has the potential to make a difference, but none should be counted on as anyone's main guy in 2017.
Fullback:
Kyle Juszczyk graded out as the best fullback in the NFL last year, according to Pro Football Focus. The Ravens would be wise to keep him, but if they don't, he'll draw interest from teams all over the league. Juszczyk earned his first career Pro Bowl nod as he caught 37 passes for 266 yards. His exceptional 92.1 pass blocking score from PFF led all other fullbacks by a wide margin.
Mike Tolbert is ranked lower than you might expect due to his age and diminished blocking skills. He'll turn 32 in November and it's not a given that he'll find another NFL home after getting released by the Panthers.
Wide receiver:
Alshon Jeffery has had two down years (by his standards) but he is still the cream of the wide receiver crop. His weak production and PED suspension in 2016 probably killed his chances of getting Dez Bryant-money, but he could still get a multi-year deal with a nice amount of guaranteed cash given the dearth of WR1 types available. Jeffery hasn't set the world on fire lately, but plenty of GMs will chalk that up to the Bears' quarterback situation.
Few saw Terrelle Pryor's standout season coming. The former Buckeyes quarterback now stands as one of the best pending free agent receivers out there. We would be surprised if the Browns allow him to reach the open market, but if he does get there, he'll get money thrown at him by teams looking for a No. 2 wide receiver.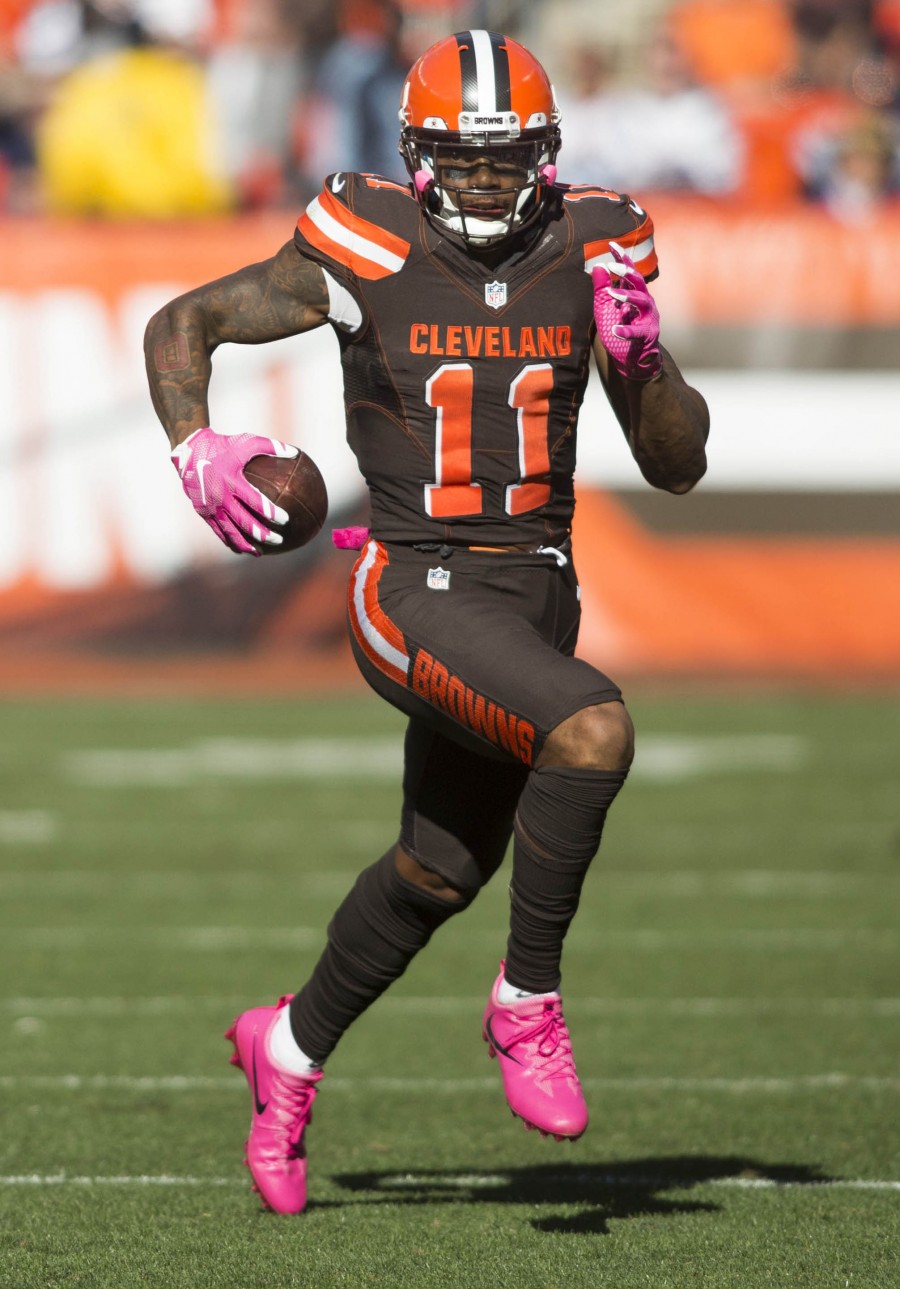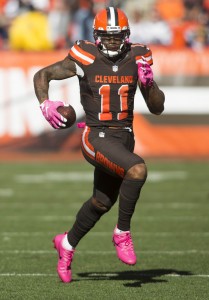 The Dolphins can replace Kenny Stills in-house and they need to save their dollars for Jarvis Landry's next deal, so we envision Stills testing the open waters. Despite his age, Pierre Garcon could reportedly garner $9MM+ per year on his next pact. Because of his maddening inconsistency, we have slotted Garcon one spot ahead of teammate DeSean Jackson. There's also this: Jackson can break a game wide open with his blazing speed, but speed doesn't usually age well. Jackson, who reportedly wants to return to the Eagles, turns 31 in December.
Each player ranked No. 6 through No. 9 here offers potential and question marks in equal measure. Those around Kenny Britt have been questioning his work ethic and attitude since his Rutgers days, but his talent is undeniable. Markus Wheaton appeared destined for big things as the Steelers No. 2 wide receiver last year before an early season shoulder injury landed him on IR. Cordarrelle Patterson has all the physical tools to succeed and he put himself on the map last year as a kick returner. Will some team out there sign him to a multi-year pact and try to mold him into a receiver? Michael Floyd's rocky year ended with a Super Bowl ring, though he was not on the active roster in Houston. Floyd will be looking for a one-year, prove-it deal and there will be teams curious to see if he can reprise his 2013 season.
Tight end:
Martellus Bennett sounds like a man who is eager to cash in on the open market. There's a "real possibility" he winds up elsewhere, according to NFL.com's Ian Rapoport, and he'll get a monster deal if that happens. Filling in for Rob Gronkowski, Bennett caught 55 passes for 701 yards and seven touchdowns in 2016.
In his first season with the Packers, Jared Cook appeared in ten regular season games and caught 30 of 51 targets for 377 yards and a touchdown. In the Packers' two-game playoff run, he really turned it on with a total of 13 receptions for 181 yards and two scores. Cook will be a priority for the Packers to re-sign, but it's not clear if they'll get a deal done between now and March 9.
Anthony Fasano finds himself ranked higher than some bigger names due to his blocking ability. PFF gave Fasano an 88.1 score for run blocking, which was the best of any tight end last year. His 72.9 pass blocking score was fourth-best among TEs.
Offensive tackle:
Andrew Whitworth spent some time at guard last season but his best (and most profitable) position is on the outside. He's 35, but he is our top-ranked free agent tackle after turning in another stellar year.
Ricky Wagner could reportedly fetch around $10MM/year. The former fifth-round pick put it all together this year in Baltimore and he won't turn 28 until October.
Russell Okung was thrust into the free agent market in February when the Broncos declined his option. This time around, it will be interesting to see whether he hires an agent. His previous deal was effectively a one-year pact with a club option for a four-year, $48MM deal with $20.5MM in guaranteed cash. After a so-so year, the Broncos wisely turned it down.
Austin Pasztor is listed as a tackle here, though it's quite possible he reverts to the interior line in 2017. Mike Adams, a former second-round pick, makes the cut for his natural talent, even though he hasn't shown much at the professional level. Will Beatty also found his way to the Top 15, but his market will be capped after two injury-ridden years.
Interior offensive line (guard/center):
Kevin Zeitler is the only offensive lineman to crack our Top 10 Free Agents list from late January. Zeitler, 27 in March, was PFF's No. 7 ranked guard in the NFL this year. After three consecutive strong seasons, he is going to get big bucks.
Ronald Leary, who once pushed for the Cowboys to trade him, recognizes that a return probably isn't in the cards. The Cowboys will go with La'el Collins in 2017 and beyond, but don't cry for Leary. After making 12 starts in Collins' place and ranking No. 25 among Pro Football Focus' 76 qualified guards, Leary will find an eager market in March.
J.C. Tretter graded out as a top 10 center last year, according to PFF, and he just turned 26. Stefen Wisniewski offers experience at both guard and center and there should be at least a few teams looking at him as a potential starter.
Dallas Robinson contributed to this post.
Photo courtesy of USA Today Sports Images.
Follow @PFRumors