A big part of these recent Andy Reid era Chiefs teams has been fullback Anthony Sherman, but it doesn't look like he'll be back in Kansas City in 2021. Sherman appeared to announce his retirement in a video he posted to Twitter.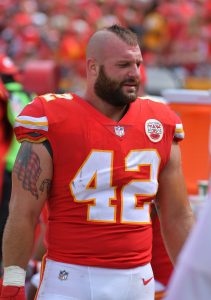 In the brief video, Sherman thanked Kansas City and said it was "on to the next chapter," using the hashtag 'retirement.' A fifth-round pick of the Cardinals back in 2011, Sherman spent his first two years in Arizona before getting traded to the Chiefs prior to the 2013 season. He spent the next eight years as Kansas City's fullback, and only missed three total games in that span.
He never played a huge role on offense, usually only getting a handful of receptions and rushing attempts per season. But he was solid as a lead blocker and played a big role on special teams, even making the Pro Bowl in 2018.
He'll wrap up his impressive ten-year career with 66 catches for 552 yards and four touchdowns, and 28 carries for 73 yards and another score. He of course won Super Bowl LIV with the team, and all of us here at PFR wish Sherman the best in retirement.
Photo courtesy of USA Today Sports Images.