While the Packers' season came to a disappointing end in the Conference Championship, it sounds like their defensive coordinator won't be a casualty. ESPN's Rob Demovsky reports that Mike Pettine will return next season.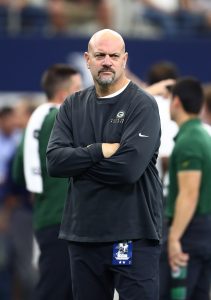 When head coach Matt LaFleur talked to reporters earlier today, he wasn't willing to definitively commit to his defensive coordinator.
"Yeah, we're still working through everything right now," LaFleur said (via Grant Gordon of NFL.com). "Just trying to evaluate everything. Like you said, I think our defense did a lot of great things. Obviously the last game was really disappointing in terms of our performance. It just wasn't good enough, especially when you get to a championship game like that. You know what's at stake. Just all across the board, it wasn't just the defense — our offense and special teams weren't up to par as well."
Apparently, LaFleur was willing to commit soon after the press conference ended. Demovsky writes that the head coach met with Pettine this afternoon, and it was decided that the defensive coordinator will stick around for the 2020 campaign.
Pettine joined the Packers organization prior to the 2018 season. Despite the Packers moving on from head coach Mike McCarthy, LaFleur decided to stick with the coordinator. Green Bay's defense rebounded in 2019, finishing this most recent campaign in the top-10 for points allowed and takeaways.
Photo courtesy of USA Today Sports Images.