After ten years with WFT, Ryan Kerrigan is likely to play elsewhere. Where ever he lands, the veteran wants to be a first-stringer, as Sam Fortier of the Washington Post writes.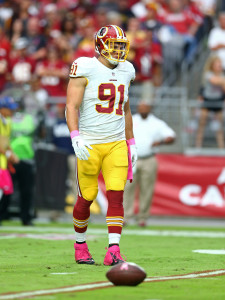 "I definitely want to be a starter," Kerrigan said. "I mean, I think any player would say that. I don't think anybody just wants to settle for being a role player or a reserve player…I've got to really be open-minded to several factors and open-minded to all teams, and that's kind of what I plan to do. I definitely feel like I've still got a lot of ball in me, a lot of good productive years ahead."
Kerrigan's playing time went gone down considerably in 2020, ending the year with just 5.5 sacks in 38% of the team's snaps. He'll turn 33 in August, but he believes he has a year or two of good football left. It's hard to see Kerrigan anointed as a starter for an otherwise healthy contender, but there are plenty of teams that could use his veteran guidance.
Kerrigan is Washington's all-time leader in sacks, but he'll be happy to get a fresh start. WFT couldn't find a trade for him before the deadline — now, he'll get to pick his own club.
Photo courtesy of USA Today Sports Images.