After enduring one of the more crushing regular-season losses in recent memory, the Steelers now may need to win out to merely secure a bye in the AFC playoffs.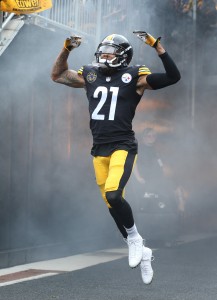 They will have a key weapon back in Week 16 to help them on this journey. Joe Haden confirmed he will return for his team's Christmas Day game against the Texans, per Ed Bouchette of the Pittsburgh Post-Gazette.
Haden was close to playing against the Patriots, Bouchette notes, and labels himself at about 85 percent as of Wednesday. The Steelers did not place Haden on IR; he's been recovering while on the 53-man roster.
The standout cornerback missed the past five Steelers contests due to a broken fibula. Prior to that, he'd delivered quality work for his second NFL team. Going into Week 16, Haden ranks as the No. 36 corner, according to Pro Football Focus, after nearly 500 snaps of work.
Haden figures to augment a pass defense that's suffered without him. In the nine games Haden played, Pittsburgh's defense allowed barely 181 yards passing per game. In the five contests without him, that number shot up to 251.6. Only eight touchdown passes occurred against the Steelers during the games in which Haden was healthy, Bouchette notes, but nine have come in the past five games.
The Steelers sit 12-3, but the 11-4 Jaguars have the head-to-head tiebreaker in the event of a Pittsburgh slip-up. A trip to Houston and a visit from the winless Browns represent the final two Steelers regular-season assignments. The eighth-year corner has never played in a playoff game.
Photo courtesy of USA Today Sports Images.