It's free agency week! This year, thanks to the salary cap increase, the dollars will be flying and players will make more than you ever could have expected. Our lists for offense and defense rank free agents based on overall ability, but our Top 50 ranks players based on earning power. Here, you'll get a good sense of what the market will be like this week and who the big fish are.
The league's "legal tampering" window will open on Tuesday at 11:00am CT. Technically, teams and players aren't permitted to finalize agreements on contracts during that legal tampering window, but that's often treated as a guideline rather than a hard and fast rule. We will almost certainly see handshake agreements go down on Tuesday and Wednesday before they become official on Thursday, the technical beginning of free agency.
Our list of 2017's top 50 free agents doesn't include restricted free agents, or franchise tagged players, since they're effectively restricted free agents as well.
With those caveats out of the way, let's dive right in! Here are Pro Football Rumors' top 50 NFL free agents for 2017, along with a few predictions on how much they might earn and what teams could be in the mix to sign them: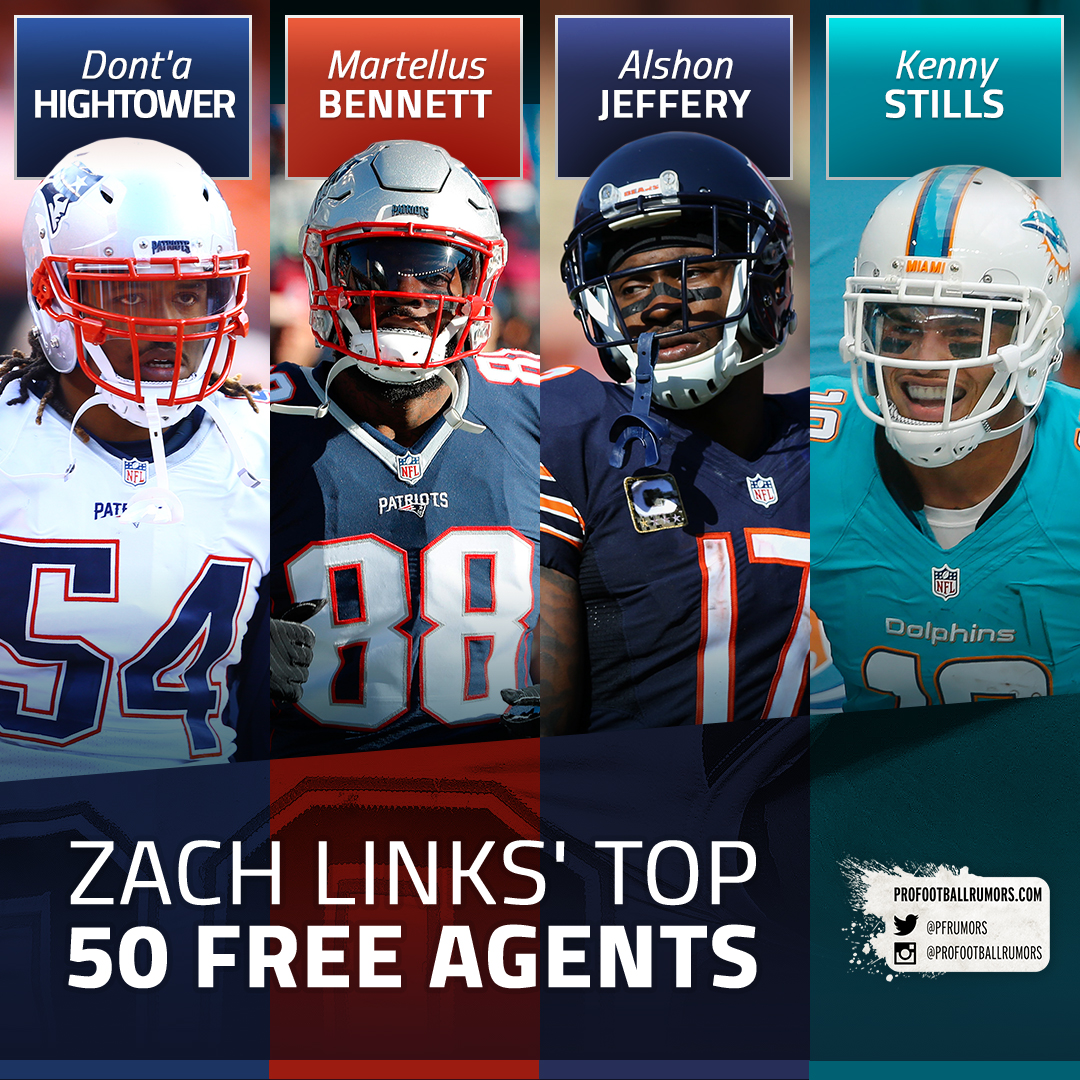 1. A.J. Bouye, CB (Texans): Bouye is an overnight sensation, going from unknown to elite talent in the blink of an eye. No one knows exactly what to make of Bouye, but his upside is too much for teams to pass up. The Texans declined to use the franchise tag on the 25-year-old (26 in August), but they're still hoping to get a deal done this week. The Jets are said to have interest, but it's not clear if they'll have the room to get something done. Cornerback-needy teams like the Panthers, Saints, Jaguars, Titans, Bears, and Eagles can be expected to at least kick the tires on this year's top player in the secondary. Could something like Janoris Jenkins' five year, $62.5MM contract ($28.8MM fully guaranteed) from last year be within reach? Jenkins had a longer history of success than Bouye, but consider these facts: Bouye nearly two years younger than Jenkins was at time of signing and the salary cap has risen by about $12MM.
Signed with Jaguars for five years, $67.5MM.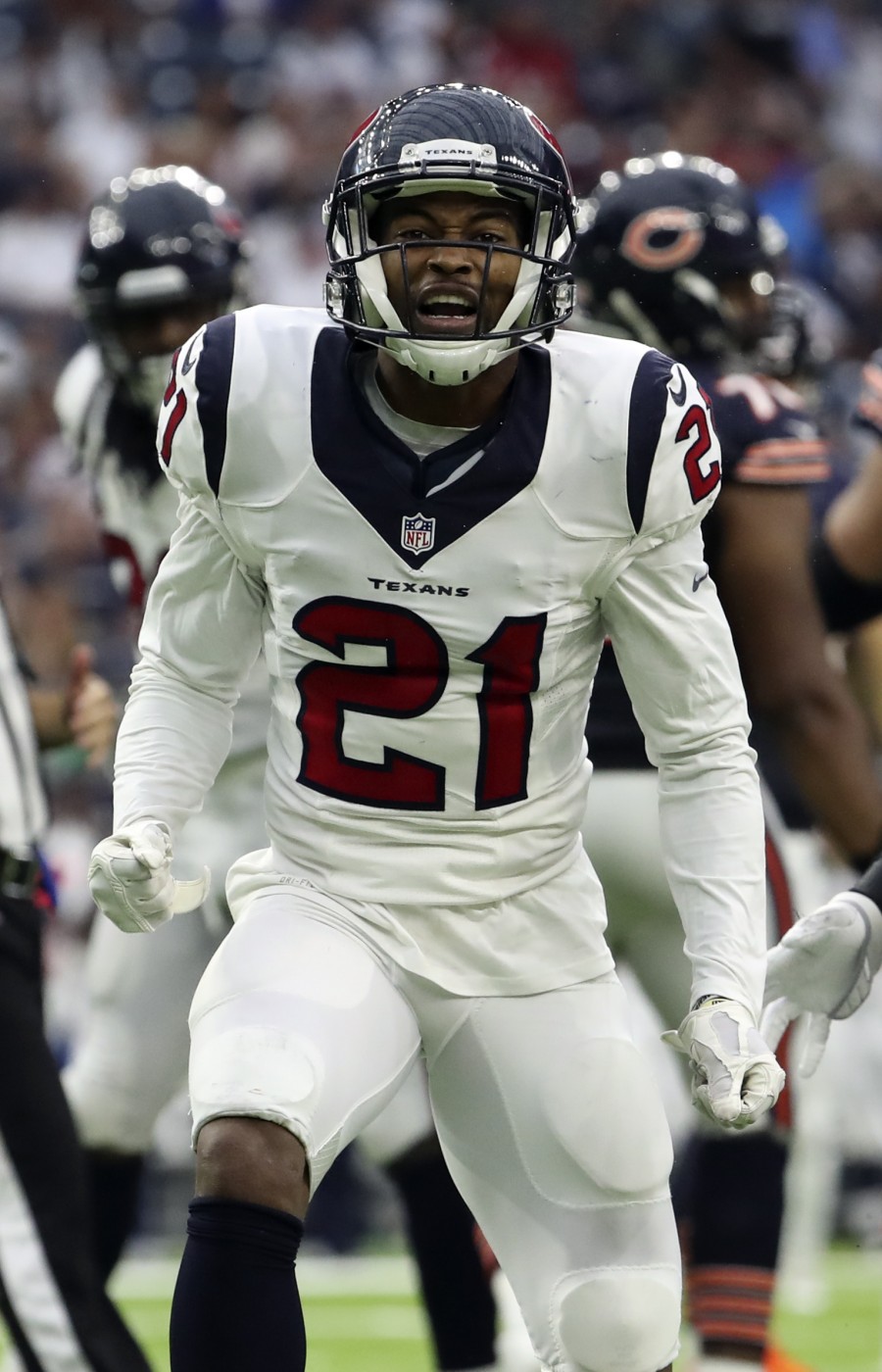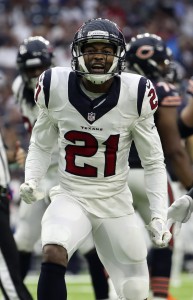 2. Alshon Jeffery, WR (Bears): He was hurt for most of 2015 and he slumped along with the entire Bears offense in 2016, but his natural ability is still evident and he is a legitimate No. 1 wide receiver. At one point, it seemed like Jeffery could wind up as the league's highest-paid wide receiver. That won't be the case, but he will likely get more cash than any other wide receiver in this year's class. The Eagles and Titans have been hot on his tail for some time now. The 49ers could also get involved and a return to the Bears cannot be ruled out either. Ultimately, Jeffery should wind up fetching at least $10MM per year and perhaps as much as $12MM per year on his next deal.
Signed with Eagles for one year, $9.5MM.
3. Kenny Stills, WR (Dolphins): Jeffery isn't the only wide receiver who could fetch $12MM per year. Stills isn't necessarily the best wide receiver on his own team, but he is just on the cusp of his 25th birthday and his ability to stretch the field is tantalizing. It doesn't sound like the Dolphins are ready to be the highest bidder for his services and it's not hard to imagine a team like the Eagles landing him. Naturally, there's quite a bit of overlap between the potential suitors for Jeffery and Stills: the Eagles, Titans, Bears, and 49ers will probably come calling. The Rams may not have enough room to squeeze in Stills, but they could certainly use a playmaker like him if they do not re-sign Kenny Britt. Stills reportedly likes the West Coast (who doesn't?) so the Niners and Rams could have a leg up on the others if the bidding is close.
Re-signed with Dolphins for four years, $32MM.
4. Dont'a Hightower, LB (Patriots): The market is capped for non-rush linebackers, but Hightower is pretty much the best at what he does and is also lauded for his intangibles. The Patriots have always embraced the "next man up" philosophy, so it is possible they will allow him to go elsewhere. The Dolphins have been frequently connected to Hightower, but that might be too ambitious for a team that has multiple major needs to address. The Colts might also make sense, but the price might be too rich for their blood. A Patriots return appears to be the most likely outcome, but anything is possible.
Re-signed with Patriots for four years, $35.5MM. 
5. Kevin Zeitler, G (Bengals): Zeitler has age on his side and he's one of the safest free agents in the top ten after three consecutive years of dominance. Interior offensive linemen don't get as much love as their counterparts on the outside, but they are still incredibly vital and Zeitler's next contract will reflect that. If he doesn't circle back to the Bengals, the Jaguars, Cardinals, Packers, and Seahawks all make varying degrees of sense for Zeitler. From a football standpoint, you can add the Jets to that group too, but I'm not sure they can meet a ~$12MM/year asking price.
Signed with Browns for five years, $60MM.
6. Logan Ryan, CB (Patriots): There are bigger names available at the cornerback position, but Ryan slots ahead of many of them after a career year. It also doesn't hurt that this fresh-faced Super Bowl champ only just turned 26 in February. If the Patriots don't tie him down, Ryan's earning power could conceivably vault him past Trumaine Johnson in terms of guaranteed cash. The Jaguars and Titans would be wise to zero in on Ryan if they can't land Bouye and it's possible that some of their evaluators might even prefer Ryan over the Houston standout. Ryan's next deal will probably pay him eight figures per year and it should be a lengthy pact.
Signed with Titans for three years, $30MM.
7. Terrelle Pryor, WR (Browns): There is strong mutual interest in a new deal between Pryor and the Browns. Still, the Browns passed on the opportunity to franchise tag the Ohio State product and he now appears poised to test the open market. With pretty much just one year to show, how will Pryor fare in free agency? His next deal should pay him at least $10MM/year and he could get up to $12MM/year. In addition to the Browns, the usual suspects for this year's high-end WRs will explore signing Pryor (say it with me): Eagles, Titans, and 49ers. There's conflicting word about whether the Steelers will get involved. The Giants are known to have interest, but I don't think they'll be splurging on free agents like they did one year ago.
Signed with Redskins for one year, $6MM.
8 .Ricky Wagner, OT (Ravens): There's already talk of Wagner fetching around $10MM/year and it's not like this year's free agent market is flush with young, quality tackles. When you also consider the lack of quality tackles in the draft, it's apparent that Wagner is about to get PAID, in all caps.Believe it or not, $10MM/year might be his floor. When all is said and done, he'll be the league's biggest earner at right tackle. The Bears are particularly interested in Wagner, so he could go from the AFC North to the NFC North this week.
Signed with Lions for five years, $47.5MM.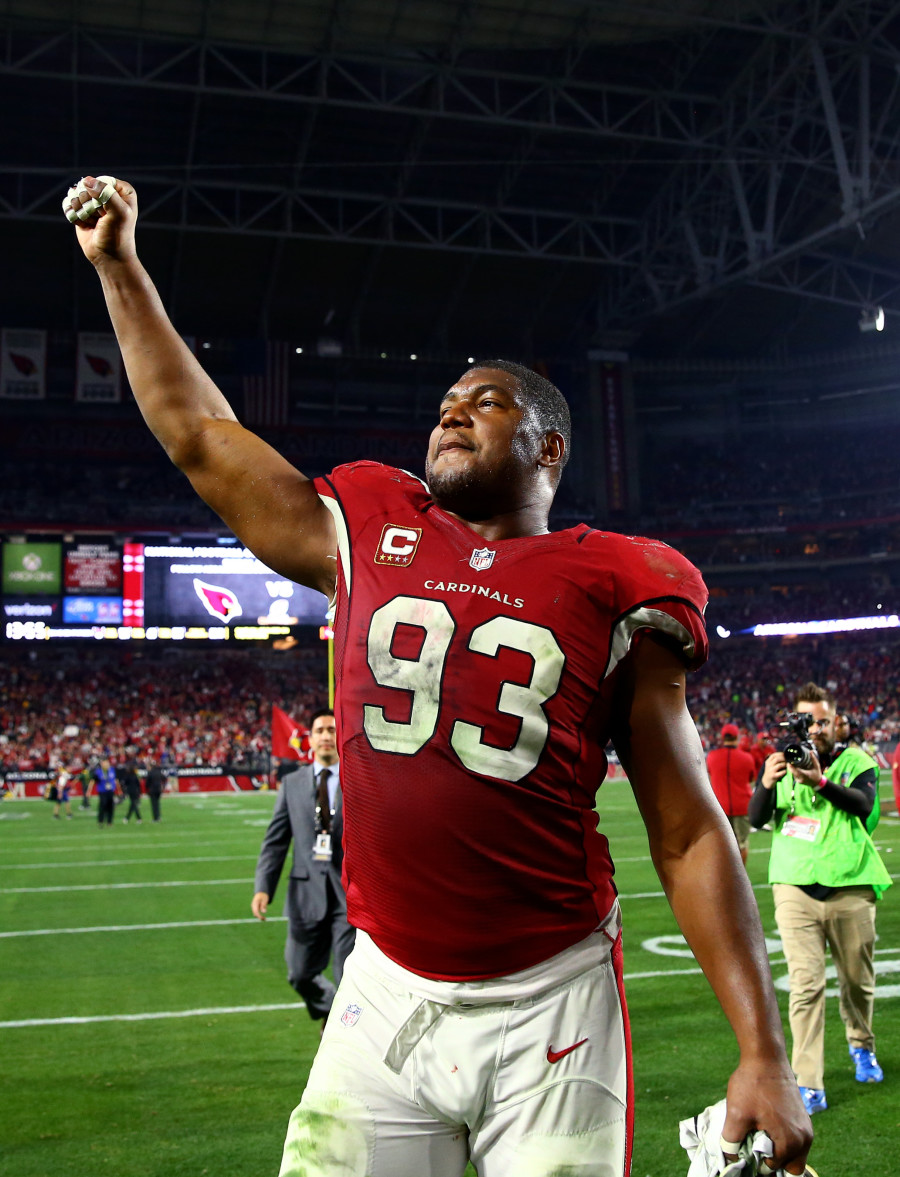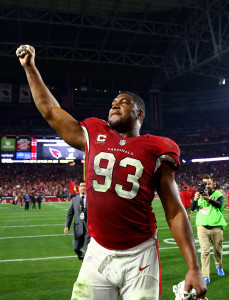 9. Calais Campbell, DL (Cardinals): Campbell was supposed to be an afterthought in Arizona after the addition of Chandler Jones. Perhaps motivated by a perceived slight, Campbell turned in a stellar year. Now, the Cardinals would very much like to keep him, but they can only go so far as they back up the Brinks truck for Jones and look into retaining other key free agents. If Jones does not agree to a cap-smoothing long-term deal between now and March 9th, the odds of Campbell leaving increase. The Jaguars are said to be a leading contender for Campbell while the Titans, Broncos, Colts, and Bears could also use a force like him. His age (31 in September) gives him a bit of a ceiling in terms of overall compensation, but he should still do nicely this month.
Signed with Jaguars for four years, $60MM.
10. Stephon Gilmore, CB (Bills): In terms of pure talent, Gilmore might be the best cornerback available. Trouble is, no one knows what to make of him after a down 2016. Some have openly theorized that Gilmore was playing it safe to avoid injury in his pivotal contract year. It's also possible that Buffalo's injuries in the front seven put undue stress on the secondary. The Bears are reportedly high on Gilmore and he may represent a cheaper option than Bouye or Ryan. A Bills return would also make sense here.
Signed with Patriots for five years, $65MM.
11. Tony Jefferson, S (Cardinals): The numbers at Pro Football Focus placed Jefferson slightly ahead of Eric Berry in 2016. He's also a full three years younger than the KC star. The Cardinals want to keep Jefferson, but they expect to lose him. The Buccaneers, Redskins, Titans, and Panthers could all be in the mix for Jefferson. Now that Berry is off the market, I expect Jefferson to command $10MM per season on a multi-year deal – maybe more.
Signed with Ravens for four years, $36MM.
12. Duron Harmon, S (Patriots): Surprised to see Harmon so close to fellow safety Tony Jefferson on this list? Don't be. Free safety is where the money is at and Harmon figures to get make more than any of us anticipated six months ago. Like Ryan, Harmon is also just 26. The Patriots would presumably like to keep Harmon. If they don't, teams like the Lions, Steelers, and Chargers could be in the mix.
Re-signed with Patriots for four years, $17MM.
13. Mike Glennon, QB (Buccaneers): I'd like to take this opportunity to remind everyone that players are ranked here based on projected earnings, not ability. As of this writing, Glennon is the best QB in this year's free agent class and he could get a deal that pays roughly $15MM/year (the guarantee amount, however, will be the thing to watch). The Bears are apparently very, very high on the 6'7″ QB. The 49ers, who were previously linked to him, will not be in pursuit.
Signed with Bears for three years, $45MM.
14. T.J. Lang, G (Packers): In 2016, Lang earned a strong 87.0 overall grade from Pro Football Focus (8th amongst guards), including a 92.9 score for pass blocking (2nd). Lang, who turns 30 in September, also spent some time at tackle early in his career and could be moved around the line in a pinch.
Signed with the Lions for three years, $29MM. 
15. Brandon Williams, DT (Ravens): The Ravens are prioritizing a new deal for Williams this offseason, but if they don't re-sign him, the Dolphins could be among the teams in pursuit. Williams doesn't fill up a stat sheet, but he is an effective run-stuffer with age on his side. At 28, teams won't be hesitant about making a multi-year commitment.
Re-signed with Ravens for five years, $52.5MM.
16. Kenny Britt, WR (Rams): Britt managed to turn in his first career 1,000+ yard season despite playing in the NFL's worst offense. He could match or even best Pierre Garcon and DeSean Jackson when it comes to average annual value and his age could lead to a longer deal. The Giants could bring the Rutgers product back to New Jersey to fill Victor Cruz's spot and take attention away from Odell Beckham Jr., but we're expecting them to put their resources in other areas. The 49ers and Cowboys are both said to have their eyes on Britt. San Francisco is flush with cap space, but Dallas will have to do some maneuvering to make that deal work.
Signed with Browns for four years, $32.5MM.
17. Dontari Poe, DT (Chiefs): Poe is a bit inconsistent, but when he's on it's a clear reminder of why the Chiefs made him the No. 11 overall pick in the 2012 draft. The Memphis product boasts two Pro Bowl selections and his athleticism may allow him to occasionally play a bit on the outside. If he leaves KC, the Raiders, Texans, Colts, and Packers (if they're finally serious about spending in free agency) would all make sense for him.
Signed with Falcons for one year, $8MM.
18. Nick Perry, DE (Packers): After this year's premier edge defenders were franchised, Perry stands as the best defensive end available. In just 14 games (12 starts), the former first-round pick amassed 11 sacks. Teams employing a 3-4 scheme will be especially interested in his services.
Re-signed with Packers for five years, $60MM.
19. Johnathan Hankins, DT (Giants): Hankins has youth on his side as he won't turn 25 until late March. He also played a hand in the Giants' strong run defense last year – as a team, they allowed just 88.6 yards on the ground per game. On the flipside, the advanced metrics indicate that Hankins wasn't all that great last year.
Signed with Colts for three years, $27MM.
20. Martellus Bennett, TE (Patriots): Rob Gronkowski's injury woes were unfortunate, but the Patriots barely missed a beat thanks to Bennett. Recently, Bennett gloated about Super Bowl winners getting overpaid and he's not wrong – the shine of a championship ring tends to illuminate free agents. Still, Bennett shouldn't sell himself short: he's a big, bruising tight end who can be a major factor in the red zone, as evidenced by his seven touchdowns last season.
Signed with the Packers for three years, $21MM.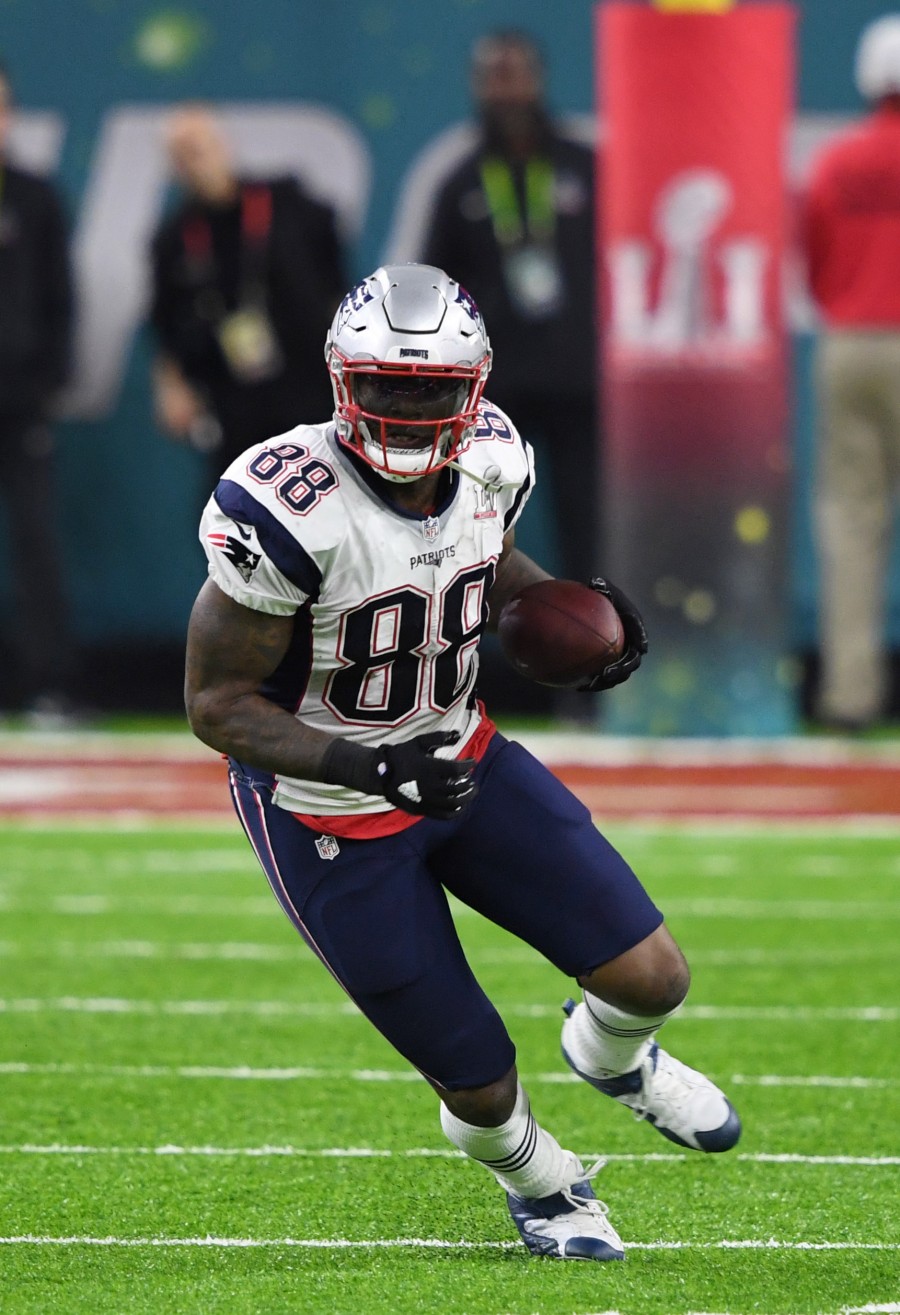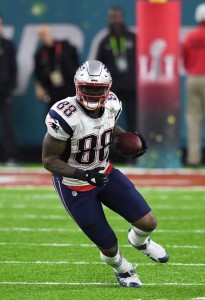 21. Larry Warford, G (Lions): The knock on Warford when he was coming out of Kentucky was that he might not be able to make it at the next level due to his lack of agility and athleticism. Today, he's not the quickest guard in the NFL, but he's unquestionably starting caliber. Warford has never missed more than three games in one NFL season and he's just entering his age-26 season.
Signed with Saints for four years, $37MM.
22. Kevin Minter, LB (Cardinals): The Cardinals have lots of free agents to address this offseason and that could lead to the 26-year-old Minter going elsewhere. Last year, he racked up 81 total tackles and 3.5 sacks in 16 games.
Signed with Bengals for one year, $4.25MM.
23. Andrew Whitworth, OT (Bengals): Whitworth is a stud, but his earning power is capped by his age (he'll celebrate his 36th birthday in December). Last year, PFF rated him as the second-best tackle in the entire NFL and he's been a Top 5/Top 10 guy for the last five years in a row. It should also be noted that he has been remarkably durable throughout his career, missing only two games since 2009.
Signed with Rams for three years, $36MM.
24. Pierre Garcon, WR (Redskins): Garcon is a solid possession receiver, a label that he personally rejects. We understand where he's coming from. This year, the Redskins had the veteran running deeper routes than he has in the past and he showed that he could stretch the field a bit, even though he wasn't the fastest guy on the WR depth chart. He didn't approach his gaudy 2013 numbers, but he still turned in a respectable stat line of 79 catches for 1,041 yards. His 69.1% catch rate was a career-high.
Signed with 49ers for two years, $23MM.
25. Zach Brown, LB (Bills): Finally, Brown lived up to his second-round draft status in 2016. After settling for a cheap one-year deal last year, Brown should do a lot better this time around.
Signed with Redskins for one year, $2.25MM.
26. DeSean Jackson, WR (Redskins): Jackson is on the wrong side of 30 and, typically, blazing speed does not age well. Still, he's one of the game's best deep threats and we can't help but think that the Eagles could overspend to bring this fan favorite home. If that doesn't come to fruition, don't be surprised if he winds up with the Bucs.
Signed with Buccaneers for three years, $33.5MM.
27. Chris Baker, DT (Redskins): Baker is well-rounded and can be used on both the interior and outside of the defensive line. The Redskins have been leaning on him more each year and he has thrived with the increased responsibilities.
Signed with Buccaneers for three years, $15.75MM.
28. Prince Amukamara, CB (Jaguars): After being slowed by injuries in New York, Amukamara managed to stay on the field for most of the season in Jacksonville. He probably won't blossom into a shutdown corner this late in the game, but the former first-round pick would make a fine CB2 somewhere.
Signed with Bears for one year, $7MM.
29. Jabaal Sheard, DL (Patriots): Sheard saw his playing time reduced in the middle of the season and was even a healthy scratch for one game in November. Despite that bump in the road, the 27-year-old (28 in May) still managed to finish out the year with five sacks and 33 total tackles. Teams may have some questions about Sheard's effort and/or conditioning after he wound up in Belichick's doghouse. His stock could be affected if the Patriots don't make a genuine effort to re-sign him. The Falcons could use him to fortify their front seven and he'll be cheaper than a lot of the other defensive linemen out there. The rival Saints may also come calling.
Signed with Colts for three years, $25.5MM.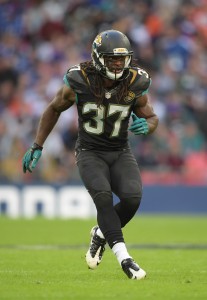 30. Jonathan Cyprien, S (Jaguars): Jacksonville fans are often frustrated with Cyprien, but he's coming off of a career year and he appears to have put many of his bad habits behind him. He finished out 2016 with 126 total tackles, one sack, and four pass deflections. PFF's 87.8 overall grade was the best of his career and placed him No. 7 among safeties, just ahead of Berry.
Signed with Titans for four years, $25MM.
31. Dre Kirkpatrick, CB (Bengals): We're still waiting for Kirkpatrick to live up to his first-round billing. Personally, I wouldn't commit serious money to Kirkpatrick on a long-term deal, but another club desperate for cornerback help might. The Steelers have some level of interest in Kirkpatrick after watching him up close for multiple years. As disappointing as he has been, something in the $8MM/year range cannot be ruled out.
Re-signed with Bengals for five years, $52.5MM.
32. Ronald Leary, G (Cowboys): Leary has no interest in a reserve role and he'll get the full-time starting job he craves this spring. Teams in need of a strong run-blocking guard will be all over him.
Signed with Broncos for four years, $35MM.
33. J.C. Tretter, C (Packers): In an admittedly small sample last year, PFF rated Tretter as the ninth-best center in the NFL last season. Despite playing in only six games before his season-ending injury, Tretter should outearn every other center thanks in large part to his youth. The former fourth-round pick just recently turned 26.
Signed with Browns for three years, $16.75MM.
34. Barry Church, S (Cowboys): Church isn't a megastar, but he is a well-rounded strong safety who should draw plenty of interest. Berry re-signing with the Chiefs should cause a domino effect that enhances his market.
Signed with Jaguars for four years, $21.6MM.
35. Adrian Peterson, RB (Vikings): As expected, the Vikings will decline Peterson's hefty option for the 2017 season. A return to Minnesota is still possible and contenders like the Giants and Raiders will also be making a strong push to add AD to their backfield. Still, given his injury history, it's hard to see Peterson getting a lucrative multi-year deal on the cusp of his 32nd birthday, hence his ranking this far down on the list. We have him as our top running back in the Top 50 because he should still score a fat one-year contract. The Giants and Raiders have both been linked to Peterson. The Packers could come into play if they lose their No. 1 RB this week.
Signed with Saints for two years, $7MM.
36. Riley Reiff, OT (Lions): Personally, I prefer Russell Okung and Kelvin Beachum to Reiff, but I anticipate Reiff getting more money than both. He's younger than Okung and coming off of a much better year than Beachum.
Signed with Vikings for five years, $58.75MM.
37. Brandon Marshall, WR (Jets): The Jets dropped Marshall earlier this month, at his request. He didn't do much last season, but neither did anyone else on the Jets. He could really wind up torturing Jets fans if he winds up with the Giants or Patriots as rumored. The Ravens love big-name aging receivers, so they would also be a natural fit for him.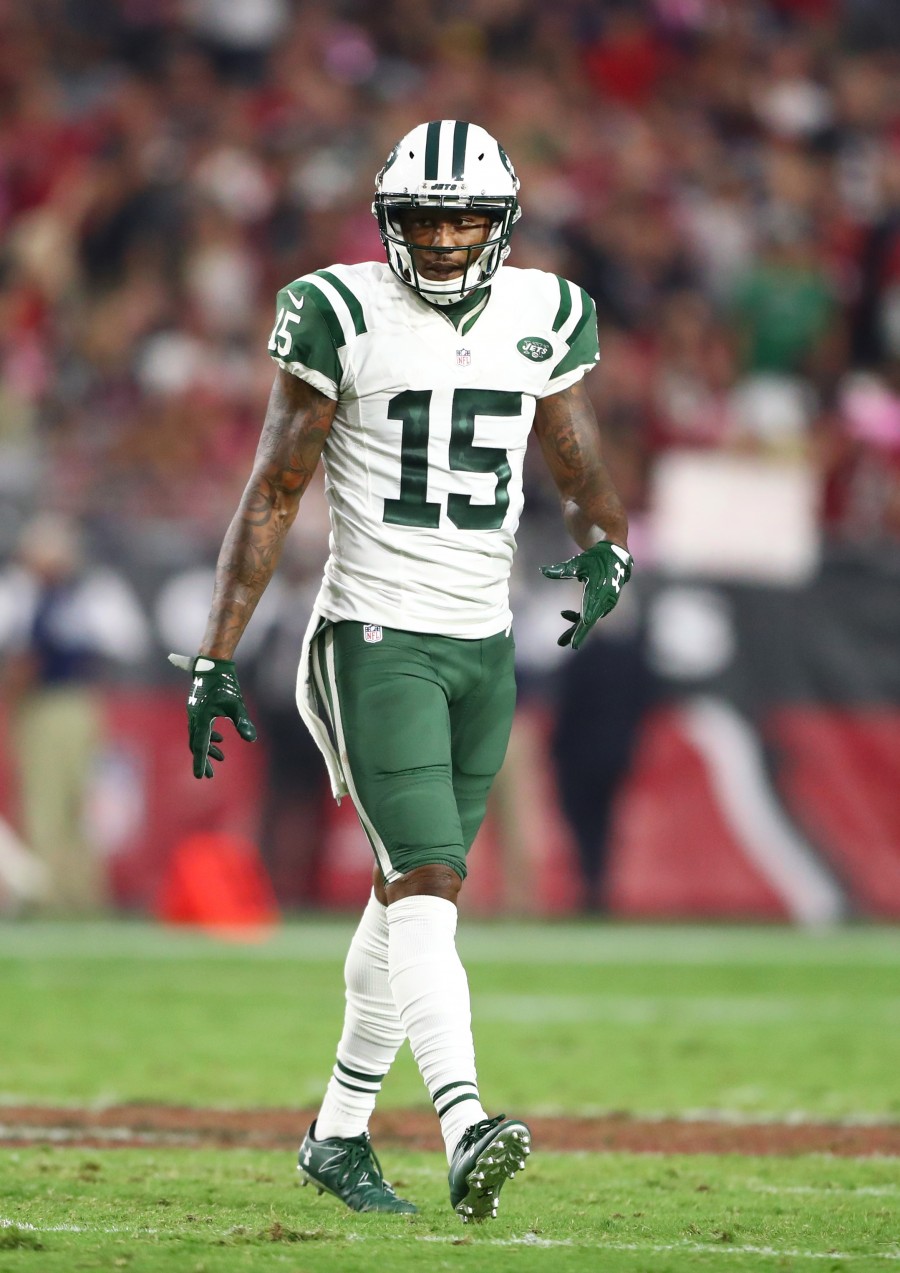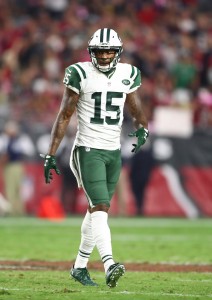 Signed with Giants for two years, $12MM.
38. Eddie Lacy, RB (Packers): Lacy's weight issues are well documented but when he's on, he's on. Before his unfortunate injury this past fall, Lacy was averaging 5.07 yards per carry.
Signed with Seahawks for one year, $4.25MM.
39. T.J. McDonald, S (Rams): I'm not as high on him as others, but he's young and can knock receivers into next week.
Signed with Dolphins for one year, $775K.
40. Morris Claiborne, CB (Cowboys): After multiple disappointing seasons, Claiborne broke out in his contract year. Then, his campaign ended after seven games. Will teams take the glass-half-full view of the former No. 6 overall pick? We believe they will, but there's also a good crop of defensive backs in this year's draft.
Signed with Jets for one year, $5MM.
41. John Simon, LB/DE (Texans): J.J. Watt, Jadeveon Clowney, and Whitney Mercilus get the attention in Houston, but Simon is a quality edge rusher in his own right. This spring, the 26-year-old could go from supersub to starter with a significant pay bump.
Signed with Colts for three years, $13.5MM.
42. Micah Hyde, S (Packers): Hyde, who just turned 26 in December, offers versatility and can be slotted anywhere in the secondary. In that respect, you might be thinking that he's Darius Butler-lite. Many will prefer Butler as a player for the here and now, but Hyde could get more years and dollars thanks to the age gap.
Signed with Bills for five years, $30MM.
43. Russell Okung, OT (Broncos): Last year, Okung went into free agency without an agent. That decision bit him in the behind after he turned in a so-so year and the Broncos turned down his pricey multi-year option. This time around, I hope he doesn't cheap out and hires proper representation. Regardless, his market will be a lot softer than it was in 2016.
Signed with Chargers for four years, $53MM.
44. Latavius Murray, RB (Raiders): He's not the most explosive runner out there, but he's a quality option for teams in need. Here's an interesting scenario based on what we've been hearing: Murray could land with the Vikings while Peterson joins up with Oakland.
Signed with Vikings for three years, $15MM.
45. Kayvon Webster, CB (Broncos): Webster wants more playing time and he's not going to get that opportunity in Denver. He will almost certainly go elsewhere and I see him getting a solid payday based on his age (just turned 26), athleticism, and special teams ability.
Signed with Rams for two years, $8MM.
46. Perry Riley, LB (Raiders): After he was a cap casualty of the Redskins last year, Riley quietly had a bounce-back year in Oakland.
47. Jack Doyle, TE (Colts): Every time we hear an update on Doyle, his projected salary keeps on rising. If the Patriots let Bennett leave, as expected, it's possible they could look at Doyle as a new safety net for Gronk.
Re-signed with Colts for three years, $19MM.
48. Darius Butler, DB (Colts): His ability to play multiple positions will work in his favor. Here's a thought: if the Packers lose Hyde, they could make a play for Butler. He'll be cheaper than Hyde due to the age gap and he's arguably the better player for 2017.
Re-signed with Colts for one year, $3MM.
49. Ryan Clady, OT (Jets): Lots of injury concerns, but also lots of potential.
50. Terrance Williams, WR (Cowboys): Markus Wheaton, Cordarrelle Patterson, and Michael Floyd may offer more upside, but Williams could edge them in earnings. We'll find out soon. The Cowboys do not expect to have him back, so he'll be there for the taking.
Re-signed with the Cowboys for four years, $17MM.
Honorable mention: Andre Branch, Bennie Logan, Kelvin Beachum, Jamaal Charles, Matt Kalil, Darrelle Revis, Julius Peppers, LeGarrette Blount, Nick Mangold, Colin Kaepernick, Nick Fairley, D.J. Swearinger, Bradley McDougald, DeMarcus Ware (retired), Stefen Wisniewski, Lawrence Timmons, Captain Munnerlyn, Jairus Byrd, Jared Odrick, Alterraun Verner, Lorenzo Alexander, Brandon Carr, Charles Johnson, Rex Burkhead, Torrey Smith, Kyle Juszczyk, Austin Pasztor, Brandon Flowers, Jahleel Addae
Follow @PFRumors