The Bears are expected to sign quarterback Chase Daniel to a two-year deal worth $10MM, a source tells Ian Rapoport of NFL.com (on Twitter). The deal includes $7MM guaranteed and it can void after one season.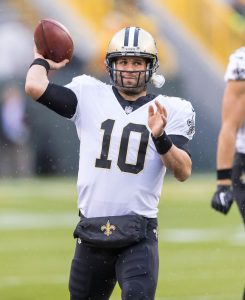 The void clause, as Rapoport puts it, gives Daniel options in the event that he "becomes this year's Nick Foles." If Mitch Trubisky gets injured and Daniel is a breakout star, he can become a free agent in 2019 and cash in.
This time last year, the Bears signed Mike Glennon to a three-year, $45MM deal with the notion that he would be the team's starter. Weeks later, the Bears selected Mitch Trubisky high in the 2017 draft, which radically changed everything. Glennon got the hook after one month and Trubisky did not cede the starting job the rest of the way. Mark Sanchez was the only other quarterback rostered by the Bears last year and is an unrestricted free agent this offseason.
This time around, things are a bit more cut and dry. Trubisky is entrenched as the upcoming starter and Daniel is here to mentor and serve as the backup in the event of injury. Glennon has already moved on since his release and has signed to back up Sam Bradford with the Cardinals.
Daniel, 31, spent last season backing up Drew Brees with the Saints and has also had stops with the Eagles and Chiefs. He has two career starts, which both came while with the Chiefs from 2013-15. The Saints originally signed him as an undrafted free agent in 2010 out of Missouri. Daniel has completed 65.4% of his passes in 78 career attempts, with a touchdown and an interception.
Photo courtesy of USA Today Sports Images.