The Lions have agreed to sign Chase Daniel, according to ESPN.com's Adam Schefter (on Twitter). It'll be a three-year, $13.05MM deal for the former Bears quarterback and, interestingly, Schefter hears that the deal will include a voidable clause.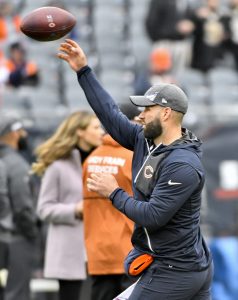 Daniel joined the Bears on a two-year deal back in 2018 – a pact that also included a void clause. The provision works in Daniel's favor. If he breaks out a la Nick Foles, he can cash in on the open market. If he remains as a steady clipboard-holding hand, the Lions will get to keep him at a reasonable rate for a respected backup.
Daniel represents a fascinating case in the NFL. At the age of 33 (he'll be 34 in October), he's started in just five career NFL games. Still, coaches love his talent and his locker room leadership, so he has cashed in with various clubs in recent years.
Last year, Daniel's lone start came against the Raiders – the Bears lost that game 24-21. In 2018 (just a few starts ago) he led the Bears to victory over the Lions on Thanksgiving Day.
Photo courtesy of USA Today Sports Images.