Five months ago, Eli Manning accepted a benching that ended his historic start streak and triggered a massive shakeup within the organization. But even after getting his job back a week later, the 14-year veteran was still viewed as either a trade candidate or a lame duck, given the Giants' rare draft real estate.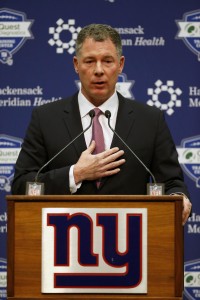 But Big Blue's new power structure immediately said Manning wasn't going anywhere, and their actions on draft weekend leave no clear succession plan from a 37-year-old quarterback who is coming off one of his worst seasons. Pat Shurmur reiterated the Giants believe in their starter, viewing Saquon Barkley's talent as too difficult to pass up despite Albert Breer of SI.com reporting the team did like Sam Darnold to an extent.
"I don't know what [taking Barkley] means for Eli," Shurmur said, via Breer. "What it means for us organizationally is we picked the guy we thought was the best player in the draft. I believe in Eli. What I know is that Eli is going to be the very best Eli he can be, and we believe in him."
Shurmur was reported to have preferred Josh Allen in a Giants war room that reportedly did not produce a definitive answer on which of the 2018 draft class' top passing prospects was the best. That the team devoted its offseason to adding the draft's top non-quarterback prospect and three new offensive linemen figures to help paint a better picture of where Manning's at than what transpired last season leading an injury-ravaged Giants offense.
But Shurmur remains confident the Manning he studied on film from a shootout loss to the eventual Super Bowl champion Eagles in December is one on which the franchise can still rely.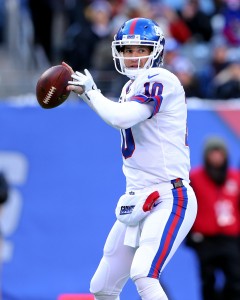 "It came down to the last score," Shurmur said, via Breer, of a game that saw Manning throw for 434 yards and three touchdowns despite being without Odell Beckham Jr. "It's not one thing, it's Eli over the course of time. And it's gotten solidified now getting a chance to work with him. … [on film] I saw a guy that could still throw the ball. I could tell he was still operating the offense pretty well. I saw that he had command of the offense, and I saw all the elements you see when things don't go well.
"There were drops, missed blocks. I think everyone had their mistakes. Things tend to get magnified. But just as a player, you could see he could still drop back and throw the ball as well as anybody."
New York has 2017 third-rounder Davis Webb and rookie fourth-round pick Kyle Lauletta behind Manning, but despite numerous calls for the Giants to draft a successor with their first top-five pick in 14 years, the team will attempt to groom the lesser-regarded prospects behind Manning for the time being. Two years remain on the starter's contract.
"No, I didn't see the age," Shurmur said of watching the 15th-year quarterback on film. "There's no substitute for experience and he's got it. So no, the age doesn't bother me."
Photo courtesy of USA Today Sports Images.