Sam Ficken won a deep competition to replace the injured Greg Zuerlein as the kicker for the NFC West champion Rams last week, but his first NFL game did not go well. The rookie missed a 36-yard field goal and an extra point in a four-point Rams win against the Titans.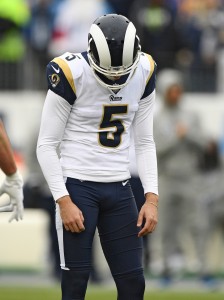 Nine other kickers made the trip to Rams headquarters last week, but Sean McVay said he will stick with Ficken going forward.
"We're going to continue to give him an opportunity, and we believe in Sam," McVay said in team-issued quotes. "Like we said, we loved the way that he responded and I think this week will provide a great chance for him to continue to do some things for our team, and we're going to move forward with confidence with him."
McVay indicated the Rams would probably rest starters in Week 17, but Ficken will have possibly the highest-stakes game of any Ram in their regular-season finale against the 49ers. He made his other three extra points last week, but the Rams could pivot to one of the more experienced kickers who took part in the tryout — one that featured Dan Carpenter, Garrett Hartley and Jason Myers — if Ficken falters again on Sunday.
Zuerlein still leads the NFL with 158 points and was voted to his first Pro Bowl a day prior to the Rams placing him on IR.
Photo courtesy of USA Today Sports Images.