The Cowboys are focused on tonight's playoff matchup against the Rams, but they'll shift their focus to extending their head coach whenever their season ends. Appearing on Good Morning Football, NFL.com's Ian Rapoport said that the Cowboys intend to begin negotiating a long-term contract with Jason Garrett during the offseason (Twitter link).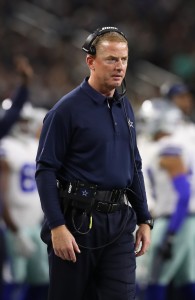 Following the Cowboys lackluster start, there were whispers that the organization could look to move on from Garrett. Furthermore, we heard that the team hadn't considered extending the 52-year-old. However, the Cowboys finished the regular season with a 7-1 record, and they won last week's playoff matchup against the Seahawks.
The recent run apparently convinced the organization that Garrett was "their coach of the future." The head coach's contract is set to expire at the end 2019 campaign, but the team is hoping to extend him before that time. After having previously signed a five-year, $30MM contract, Rapoport expects Garrett's next contract to be among the most lucrative in the entire game.
Garrett has been with the organization since 2007, and he took over head coaching duties in 2010 after the team fired Wade Phillips. Garrett has put together a 77-59 record during his tenure as head coach, leading the Cowboys to three playoff appearances.
Meanwhile, defensive backs coach and passing-game coordinator Kris Richard wasn't able to get a head-coaching gig this offseason (although Rapoport notes that he was a finalist for the Dolphins gig). However, based on his quick ascension through the organization, many believe the Cowboys will make Richard their full-time defensive coordinator in 2019. Rod Marinelli is the Cowboys current defensive coordinator, but Rapoport could envision a scenario where the 69-year-old transitions to a senior defensive assistant role.
Photo courtesy of USA Today Sports Images.