The Bears being this open about potentially trading the No. 1 overall pick is notable in itself; only two teams (the 2001 Chargers and 2016 Titans) have moved down from No. 1 this century. But second-year Chicago GM Ryan Poles is open to unloading the pick before free agency begins.
Since the NFL moved the draft to April in 1976, there have been eight instances of teams trading out of No. 1. Each trade occurred in April, with only one of those moves — the Patriots' 1984 move up for wideout Irving Fryar — happening before April 14. The Bears will consider bucking tradition here to have their ducks in a row ahead of the market opening.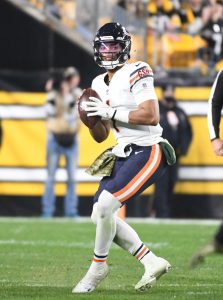 "There are some scenarios that might benefit us to move before free agency opens, potentially, but again when we get back with all the information that we've gathered from here I think we'll have a better direction," Poles said, via ESPN.com's Courtney Cronin. "There's scenarios where you could add players as well, potentially, which again, gives you some clarity on what you want to do in the draft and free agency."
Chicago making a push to collect a trade haul before free agency starts (March 15) would both give the rebuilding team a better view of what type of player it can draft, by determining its new draft slot weeks in advance, and clear up another team's quarterback outlook early. Then again, the team that would be trading up might not be on the same page with the Bears, with free agency beginning before pro days commence. The teams eyeing Bryce Young, C.J. Stroud, Anthony Richardson and Will Levis will likely want as much information as possible before agreeing to move up.
Three of the eight modern-era trade-ups were for quarterbacks (Jared Goff, Michael Vick, Jeff George). In having a young dual-threat quarterback in place, the Bears reside in a similar place to the most recent team to trade down. Marcus Mariota started for four-plus seasons in Tennessee, though he did not earn a second contract from the team. Chicago is leaning toward giving Justin Fields a chance to prove he will be worthy of an extension someday. No team has inquired about Fields' availability, Poles said.
Poles confirmed the Bears will examine the QBs in this year's QB class. With this being the Bears' first time picking atop a draft since 1947, such research is mandatory. Jets examinations of the 2021 field, when the team held the No. 2 overall pick, led to a trade of Sam Darnold and selection of Zach Wilson. Fields has shown a bit more upside than Darnold after two seasons, though the Bears still need to see plenty more of the Ohio State product as a passer. Poles had previously said the Bears would need to be blown away to take a quarterback first overall. It certainly does not look like that has happened.
"We've always leaned [toward trading back from No. 1] because Justin did some really good things," Poles said. "I'm excited about where his game is going to go, but at the same time, when you sit in our situation at 1 overall, you have to do your due diligence, you have to investigate everything, you have to spend time with those guys just to make sure we're making the right decision."
Trading down before free agency also would be a move that would hinder the Bears' study of this QB class, with "30" visits taking place between free agency and the draft as well. It should be considered unlikely the Bears pull the trigger that early, but this trade will be one of the league's top storylines ahead of the draft.
Teams like the Texans (No. 2), Colts (No. 4), Raiders (No. 7) and Panthers (No. 9) will be in range to move up, combining a QB need with top-10 draft real estate. It will both depend on the offers and how far the Bears are willing to move down. Poles' trades in 2022 point to the team being fairly open on the latter front.