Darren McFadden is calling it a career. The former Cowboys running back announced his retirement from football on Tuesday afternoon.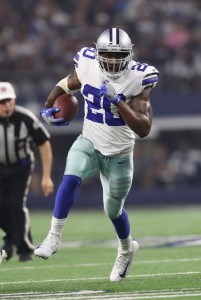 "Today, I am announcing that I am retiring from the NFL. I have been extremely privileged to play in the league for a long time," McFadden wrote. "And now that time for me is done."
McFadden, 30, was waived by the Cowboys over the weekend. It was reportedly a mutual decision. At the time, it seemed like McFadden might seek work elsewhere, but has decided to walk away from the game instead. In theory, McFadden was free to sign with any team after passing through the post trade deadline waivers.
The running back first broke into the league as the No. 4 overall pick in the 2008 draft. While he showed flashes of serious potential, injuries hampered him in Oakland. His best Raiders season came in 2010 when he ran for 1,157 yards plus 507 yards receiving.
McFadden had a late career re-emergence with Dallas, eclipsing 1,000 yards in 2015. Unfortunately, he lost most of 2016 to injury and didn't see much action this year. His 2017 season ends after one game played with one rushing attempt for negative two yards. Some expected McFadden to get back into the fold after Ezekiel Elliott's suspension, but that never came to fruition.
McFadden's career ends with 5,421 yards rushing, at an average of 4.2 yards per attempt, and 28 rushing touchdowns. He also had 2,114 yards receiving and five TDs through the air.
We here at Pro Football Rumors wish McFadden the best in retirement.
Photo courtesy of USA Today Sports Images.